BBC Sport's 2015 advent calendar
Last updated on .From the section Sport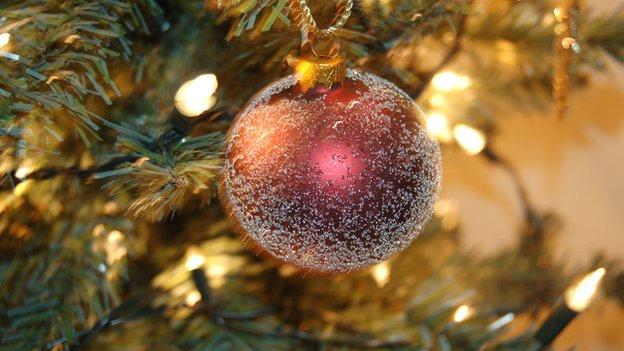 Every day in the run-up to Christmas BBC Sport picked out a memorable moment from the 2015 sporting year.
24 December - Bronze's beauty
23 December - Rutherford's golden grand slam
Great Britain's Greg Rutherford wins long jump gold at the World Athletics Championships in Beijing to claim all four major titles.
22 December - Sanchez's screamer
Arsenal forward Alexis Sanchez scores a stunning 25-yard strike during the Gunners' 4-0 victory over Aston Villa in the FA Cup final at Wembley.
21 December - Ennis-Hill's heroics
Olympic champion Jessica Ennis-Hill secures heptathlon gold at the World Championships in Beijing.
20 December - Brilliant Bolt
Usain Bolt upsets the form books to beat Justin Gatlin to gold in the 100m at the World Athletics Championships in Beijing.
19 December - Rooney's speech
Wayne Rooney makes a speech in the dressing room after breaking Sir Bobby Charlton's England goalscoring record, describing it as a "huge moment".
18 December - Beckham's top catch
Former England football captain David Beckham proves he is adept with his hands as well as his feet at Wimbledon, much to the delight of the Centre Court crowd.
17 December - Savage Stayin' Alive
Relive Robbie Savage, resplendent in John Travolta-style white trousers, filming behind-the-scenes on the Match of the Day 2 set on his phone to the Bee Gees' Stayin' Alive track.
16 December - Sneaky free-kick
Notts County Ladies' Ellen White finishes off a well-worked free-kick in their 1-1 draw against Arsenal Ladies in the WSL 1.
15 December - Rosberg throws cap
Nico Rosberg throws his podium cap at Mercedes team-mate Lewis Hamilton following the Briton's world title victory in the US Grand Prix.
14 December - 45-yard goal
Julian Koch scores an amazing goal for German side FC St Pauli just five seconds after the opposition kick off.
13 December - 'You are an ostrich'
Former Leicester manager Nigel Pearson has an angry news conference when he takes exception to a journalist's question, calling him "stupid", "daft" and an "ostrich".
12 December - Chase's 'magic pass'
Rangi Chase performs a superb behind-the-back pass as he sets up Salford's Josh Griffin to score in the Super League.
11 December - It's Pomicide
Relive one of the most astonishing days in Ashes history through our very own Pint-Sized Ashes.
10 December - The FA Cup's greatest shock?
League One Bradford stun Chelsea by fighting back from two goals down to win 4-2 at Stamford Bridge in what is arguably the greatest shock in the history of the FA Cup.
9 December - Epic ski jumps
The men's ski jump world record is broken twice in two days at a World Cup event in Vikersund, Norway.
8 December - Outrageous Federer
Roger Federer performs an outrageous 'hot dog' lob during his second-round match with Sam Querrey at Wimbledon.
7 December - Angry Crooks
Final Score pundit Garth Crooks strongly criticises referee Mike Dean after he showed a red card to Arsenal player Gabriel for violent conduct during their 2-0 defeat by Chelsea.
6 December - Lizzie Jones' tribute
Lizzie Jones, whose husband and Wales international Danny Jones died in may, sings an emotional rendition of Abide With Me at Wembley before the Challenge Cup final.
5 December - Amazing somersault
Carolina Panthers quarterback Cam Newton scores a spectacular somersault touchdown during his team's 24-10 victory over the Houston Texans.
4 December - Bolt wiped out
Double sprint world champion Usain Bolt is knocked over by a cameraman who loses control of his motorised scooter.
3 December - Forgetful Ding
China's Ding Junhui misses out on a 147 break at the World Snooker Championship as he appears to forget he is on for a maximum.
2 December - Bad stretcher bearers
Ergotelis player Leonardo Koutris is given some rough treatment by two stretcher bearers during his side's match with AE Larissa in the Greek second division.
1 December - Incredible Lloyd
Carli Lloyd scores an incredible goal from the halfway line for the USA against Japan in the Women's World Cup final in Vancouver.