Ronda Rousey: 'It might be six months before I can eat an apple'
Last updated on .From the section Sport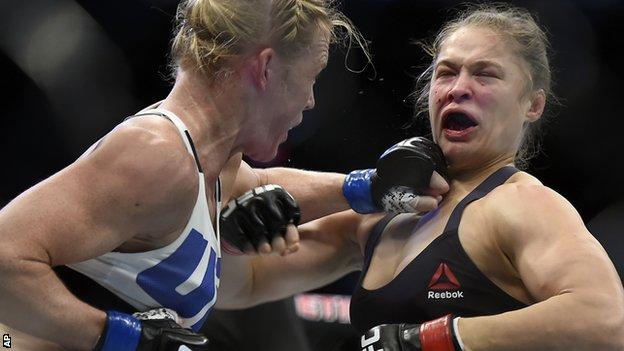 Ronda Rousey says it may take six months to fully recover from the injuries she sustained in her Ultimate Fighting Championship bantamweight title defeat by Holly Holm in November.
Holm, 34, ended her fellow American's unbeaten 12-fight streak with a second-round knockout in Melbourne.
"It might be three to six months before I can eat an apple, let alone take an impact," Rousey, 28, told ESPN.
The Expendables 3 star added she was hoping to reclaim her title.
"Maybe I can't do it all before my prime, before my body is done, but maybe I can," added Rousey, who is set to appear in a remake of 1980s film Road House.
On Sunday, Holm had a day named after her, at a parade in her native Albuquerque, New Mexico.
UFC in focus
Mixed martial arts (MMA) in the UFC is comprised of many combat sports, including kickboxing, karate, jujitsu and wrestling.
You can defeat your opponent by either a judges' decision, referee's technical knockout, knockout, submission or forfeit