Conor McGregor v Jose Aldo: 'One of the biggest fights in history'
Last updated on .From the section Sport
Conor McGregor believes his UFC featherweight championship fight against Jose Aldo will be one of the biggest in the history of combat sport.
Irishman McGregor, 27, will attempt to claim the 29-year-old Brazilian's title in Las Vegas on Saturday.
McGregor told BBC Sport his meeting with the man rated the best pound-for-pound fighter in UFC would generate upwards of $100m (£65.7m).
"It's a big one - like they all are when I'm involved," he added.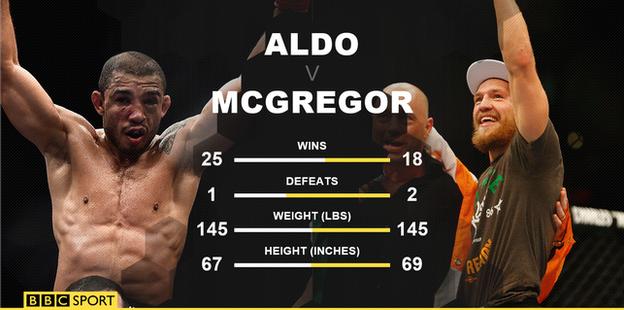 "It's up there as one of the biggest fights in combat sport history."
Dubliner McGregor has been credited, along with former women's bantamweight champion Ronda Rousey, with widening the appeal of mixed martial arts.
He was initially set to face Aldo in July until the Brazilian - whose last defeat came 10 years ago - pulled out with a rib injury.
McGregor beat Chad Mendes with a second-round knockout to be named interim featherweight champion.
"I simply see victory," said McGregor. "I simply see dominance - a clear-cut first-round KO.
"I'm not just going to beat Jose. I'm going to embarrass Jose in there. I don't need to gather any more intel, any more research. It's done. He has already lost."
Aldo said: "I'm going to hit him, and he's going to sleep.
"I always beat Americans, and this time I'm going to beat an Irishman."