Peter Kennaugh and Mark Cavendish among Isle of Man sports awards 2015 nominees
Last updated on .From the section Cycling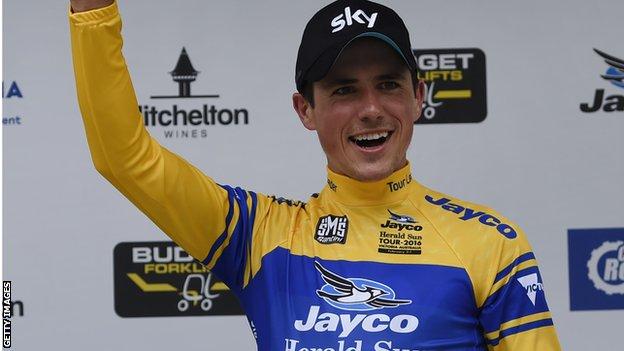 Cyclist Peter Kennaugh has the chance to become Isle of Man sportsman of the year for the second year running after the announcement of the nominations.
Kennaugh and fellow rider Mark Cavendish are both on the shortlist for the sportsman and ambassador awards.
Athlete Sarah Astin and swimmer Charlotte Atkinson are among the six nominees for top sportswoman.
Former Olympic boxer Audley Harrison will be guest of honour at the awards ceremony in Douglas on 23 March.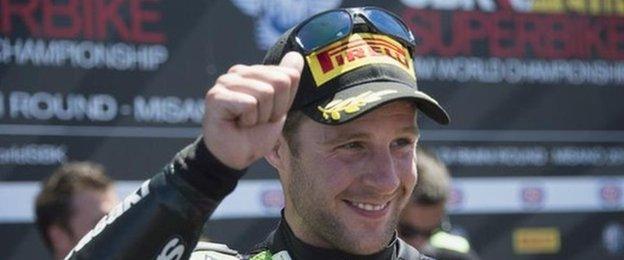 IOM Sport's executive chairman, Gary Corkhill, said it had been a "fabulous year for Manx sport" and that the nominees were all "an inspiration to those within their respective sports".
He added: "The awards recognise the island's high-level performers and highlight their success on the world stage."
Amongst those nominated are Olympic, World and Commonwealth medal winners.
All nominees must be Manx-born or have resided on the island for at least two years.
Nominations
Sportsman
Sportswoman
Charlotte Atkinson (swimming)
Rachel Franklin (athletics)
Yasmin Ingham (equestrian)
Catherine Reid (athletics)
Under-21 Sportsman
Under-21 Sportswoman
Charlotte Atkinson (swimming)
Tara Donnelly (gymnastics)
Elizabeth Holden (cycling)
Yasmin Ingham (equestrian)
Catherine Reid (athletics)
Disability Sportsperson
Tom Callister (Special Olympics)
Paul Clucas (Special Olympics)
Peter Taylor (Special Olympics)
Nicola Wooldridge (Special Olympics)
Team
IOM National Arena Swimming Team
IOM Special Olympics Football Team
Island Games Cycling team
South Ramsey Bowling Club
St George's Football Team
Vikings Hockey Club - Ladies A Team
Administrator
Gary Jakeman (Island Games)
Beryl Wooldridge (Special Olympics)
Ambassador
Conor Cummins (motorcycling)
David Higgins (motorsport)
Jonathan Rea (motorcycling)
Coach
Tony Fallon (Special Olympics)
Valery Molchanov (gymnastics)
Veteran Sportsperson
Gail Griffiths (athletics)
Dave Molyneux (motorcycling)
Richard Gerrard (athletics)
Steve Colley (motorsport)
Lifetime Achievement
Announced on the night