The best of BBC Sport: Mascots get soaked, skiing 360, plus more
Last updated on .From the section Sport
Referees walking off in protest, mascots getting soaked by sprinklers and Alan Shearer moaning about Manuel Pellegrini moaning.
I feel the need...the need for speed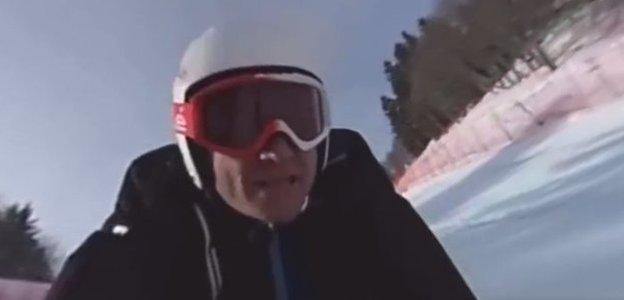 Ski Sunday's Graham Bell gives a 360 degree perspective on the Kandahar downhill course in Chamonix. It's fast, it's loud, it's bumpy.
Mike Orlic: I can't get over the 360 degree video. Just touch the image and have a laugh looking at all the angles of flying down the Kandahar! It's amazing, I feel like I am there with him!
Jason Croad: Quality video. Reminds me of my one and only skiing trip 30 years ago. Spent most of my time sliding on my face. Wonderful memories.....not.
Strops in Leverkusen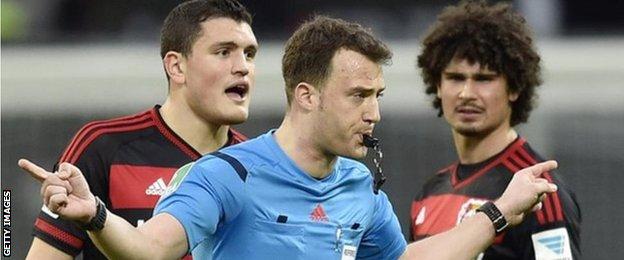 Referee Felix Zwayer wasn't taking any nonsense in the Bundesliga game between Bayer Leverkusen and Borussia Dortmund on Sunday.
The German official marched both players off the pitch and suspended the game, after Leverkusen boss Roger Schmidt refused to leave the technical area despite being sent to the stands.
David Bradley: This should happen more often in football, maybe then players and managers might get the message: 'No ref, no game.'
Sean Jones: Rules need changing. Football should follow rugby and only a couple of players can speak to the ref during the match. Any abuse and the player gets a card.
'I never see Lionel Messi wanting to be left out'
Match of the Day's Alan Shearer was clear in his message when it came to the age-old debate of fixture congestion.
When you're Manchester City, there's no such thing.
The former England captain thought it was wrong for City to put out a weakened team in their 5-1 defeat by Chelsea in the FA Cup.
Lynsey Babcock: Doesn't matter how much money the players earn. It takes the body a certain amount of time to rest to be in peak condition. No amount of money earned will change that.
Joanne Fisher What they fail to mention is the fact that City have 14 players fit. Had any of them played and got injured at Chelsea, we would be playing kids on Wednesday. Liverpool fielded kids and were hailed for giving youth a chance. City field kids and get slated.
Mick Miller: The players these so-called big clubs have in their squads should all be capable of coming into the team and producing the goods. They get paid well enough. I remember when teams had 11 players and one sub, they showed more passion and spirit than the overpaid players of the present day.
A sprinkler surprise
Two mini Bournemouth mascots received a surprise when they rushed on to the pitch before Saturday's FA Cup game with Everton.
Here's what happened... and it looks like his dad was watching...
Rob Schulkins: That's my son!! In the firing line!
Aaron J Davies: Note to players: He carried on and didn't look for the referee.