Conor McGregor: UFC 200 fight with Nate Diaz is off - president Dana White
Last updated on .From the section Sport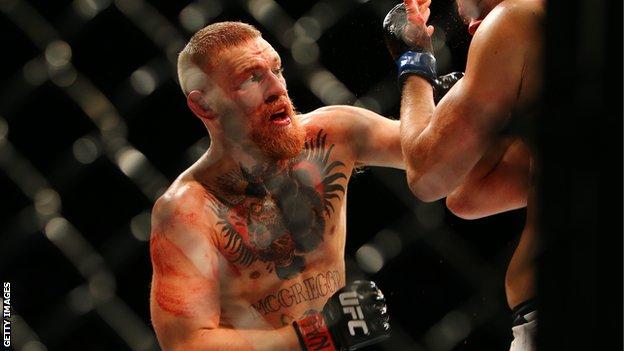 UFC 200 organisers have confirmed they are looking to replace Conor McGregor after giving the Irishman "every opportunity in the world" to fight.
The 27-year-old was to face Nate Diaz at the Las Vegas event in July but refused to fulfil promotional duties.
He then fuelled speculation he was to quit the sport, before issuing a statement criticising UFC bosses - adding he still wanted to fight.
But UFC president Dana White said they could not "bend" McGregor any longer.
READ MORE: McGregor out of UFC 200 amid quit talk
"Anybody who has fought for the UFC over the last 16 years knows that we try to give as much leeway as we can," said White at a news conference in Las Vegas.
"But you have to show up to promote the fight. You have to show up to press conferences and shoot the commercials. It's part of the job. It's what we do here.
"We get criticised a lot for bending too much to Conor - and we do. I respect Conor very much as a fighter and I like him, but you have to show up and do this stuff."
Asked who would replace McGregor, White added: "I don't know. We're going to figure that out. We gave Conor every opportunity in the world to get here."
Diaz, who last month became the first person to defeat McGregor in UFC, was in attendance in Las Vegas, along with several other competitors, while featherweight champion McGregor's chair was left empty.
The Irishman wrote on Twitter during the press conference: "Everyone flew in. Respect. But not everyone up there made the company 400 million in 8 months."
When asked about the event, Diaz insisted he is only interested in fighting McGregor.
"I didn't ask for that fight; he asked for that fight. If we don't do that fight, I'm going on vacation," he said.