UFC 200: Conor McGregor will fight again - president Dana White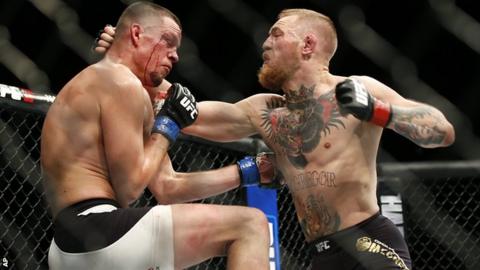 Conor McGregor will not feature on the UFC 200 card, but Ultimate Fighting Championship president Dana White says the Irishman will fight again.
McGregor, 27, was due for a rematch with Nate Diaz on the 9 July promotion, but was pulled from the card after refusing to fulfil promotional duties.
American light-heavyweights Jon Jones and Daniel Cormier will instead square off at the main event in Las Vegas.
"I didn't prevent Conor from fighting at UFC 200," White said.
"He knew what the deal was. I told him what the deal was. He opted to do that."
McGregor had said earlier this week that he was back on the card for UFC 200, having last week triggered speculation that he was quitting before issuing a statement to say he had not retired.
White acknowledged the absence of the Irish featherweight, UFC's biggest drawcard, would upset fans.
He added: "Conor is going to fight again. He's going to fight at UFC 201, 202, 203, whatever the deal might be."