UFC: Britain's Michael Bisping wins middleweight championship
Last updated on .From the section Sport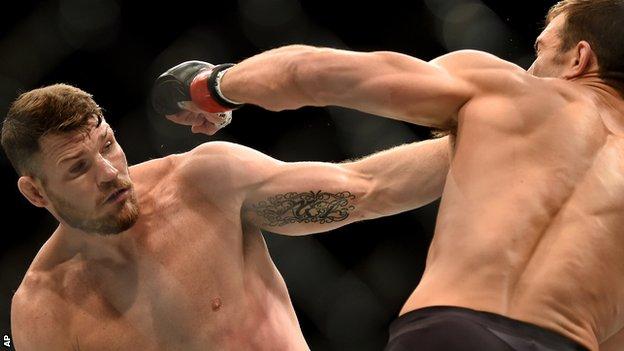 Michael Bisping became the first Briton to win a UFC title with a sensational first-round knockout against middleweight champion Luke Rockhold in Los Angeles.
The 37-year-old, who was given only 17 days notice to replace injured Chris Weidman for his first title chance, floored Rockhold with a left hook.
Another left saw the American down again moments later and following a flurry of devastating head and body shots, the fight was stopped after just three minutes, 36 seconds at the Forum.
Rockhold, 31, had gone into the contest on a run of five successive victories, including a second-round submission win against Bisping in November 2014.
But he was caught by the speed of the Briton's glancing left hook and suffered only the third defeat of his career.
It completed a remarkable resurgence for Lancashire's Bisping, who has lost three title eliminators in his 10 years in the sport.
"Two weeks' notice, two days, two hours, two minutes, I'll fight anyone anywhere, it's amazing," Bisping said.
"Some say revenge is sweet. I disagree. It's better than sweet. I really, really have felt the support from the UK, it's part of the reason why I'm here right now."
Spirit of Ali
Less than 24 hours after Muhammad Ali's death, the boxing legend's son-in-law fought to a majority draw against Elvis Mutapcic on the undercard of UFC 199.
"It's a lot to go through before a fight," Kevin Casey said. "But thank you guys for the support, and God bless my family."
The 34-year-old Casey is married to Hana Ali, the daughter of Ali and his third wife, Veronica Porsche.
Muhammad Ali also fought at the Forum, beating Ken Norton by split decision in their second meeting in September 1973.