Brock Lesnar: Second positive doping test for UFC star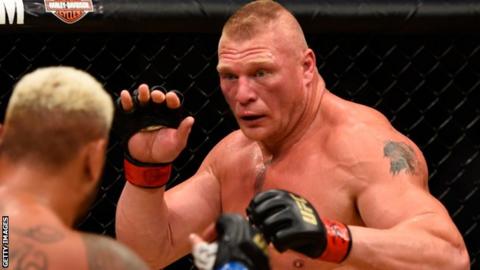 WWE heavyweight Brock Lesnar has returned a second positive doping test, the UFC has announced.
Lesnar, 39, tested positive for an unnamed substance in an in-competition sample after his UFC 200 heavyweight victory over Mark Hunt on 9 July.
The same substance was found in an out-of-competition sample from 28 June.
A UFC statement said the United States Anti-Doping Agency would "handle the results management and appropriate adjudication of this case".
UFC anti-doping policy states that a legal review process is afforded to all athletes before any sanctions are imposed.
Lesnar's victory over Hunt at UFC 200 in his first MMA fight in four years secured him a UFC record purse of $2.5m (£1.9m).