Jon Jones: UFC fighter banned over 'contaminated sex pill'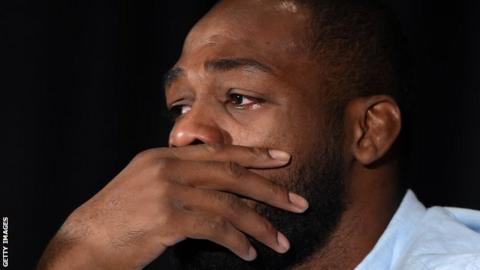 UFC interim light-heavyweight champion Jon Jones has been banned for a year after claiming he took a contaminated pill for erectile dysfunction.
The American, 29, tested positive for two banned substances in June and was pulled from UFC 200, where he was due to face Daniel Cormier in Las Vegas.
The suspension - imposed by the United States Anti-Doping Agency (Usada) - is backdated to July.
In a statement to ESPN, Jones said he had hoped "for a better outcome".
But he added he was "pleased" Usada's investigation had determined he was "not a cheater of the sport".
At the time of his positive out-of-competition urine test - which showed the presence of hormones and metabolic modulators - a tearful Jones apologised and said he had not taken any performance-enhancing substances.
His explanation - that he had taken a contaminated Tadalafil pill bought online - "crossed the threshold of probability", the panel ruled.
According to the panel's findings, the pill "is not a prohibited substance but a legitimate erectile dysfunction medication", adding that its purpose is "to enhance sexual not sporting performance".
A UFC statement said the case highlights "the care and diligence that is required by athletes competing in the UFC to ensure no prohibited substances enter their system".
A statement from the independent panel added "on the evidence" Jones is "not a drug cheat" and has "not only lost a year of his career but an estimated $9m".
It added: "This outcome, which he admits to be a wake-up call for him, should serve as a warning to all others who participate in the same sport."