BBC Sport - BBC African Footballer of the Year 2016 set for launch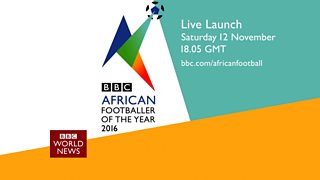 BBC African Footballer award 2016 set for launch
Find out who the five nominees are for the BBC African Footballer of the Year 2016 at the live launch show on Saturday, 12 November from 18:05 GMT.
The five names will be revealed on BBC World TV and BBC World Service radio, and voting will open.
Fans of African football worldwide will be able to vote via the BBC African football website from 18:50.
Voting will close at 18:00 on Monday, 28 November and the winner revealed live on Focus on Africa TV and radio on Monday, 12 December at 17:35.
Keep up-to-date with all the latest here.