Vote for your favourite mannequin challenge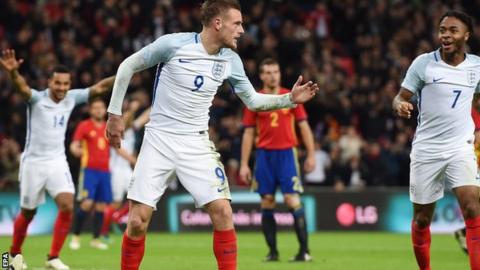 It is safe to say Jamie Vardy and England's 'mannequin challenge' celebration during their 2-2 draw against Spain was a tad lacklustre.
BBC Sport takes a look at the best the sporting world has had to offer and we want you to decide the best of the rest.
Watch them all and vote for your favourite at the bottom of the page.
GB women's gymnastics team:
The Downie sisters, Amy Tinkler and the rest of the GB women's gymnastics team gifted us this effort - bonus points if you can spot Claudia Fragapane.
Lamar University Cardinals basketball team:
An alternative take here: Cardinals guard Torey Noel is ready to pump up his team-mates when he enters the dressing room but finds them rather distracted...
Europe's top golfers:
Check out this dedicated bunch at the World Tour Championship in Dubai - it seems the entire European Tour staff and players took part in this mannequin challenge. Highest production values we have seen so far.
Leeds Gymnastics Club:
Not wishing to be outdone by his Great Britain team-mates, Olympic bronze medallist Nile Wilson roped in his pals at Leeds Gymnastics Club - it looks like they put themselves thorough a lot of pain for this.
Kentucky University basketball fans:
This is what 21,000 Kentucky University basketball fans doing the mannequin challenge looks like - that's 'audience participation' for you...
BBC TV's Football Focus:
Dan Walker manages to be in three places at once for the Football Focus mannequin challenge and Martin Keown possibly looks even more terrifying than ever.
ATP World Tour players:
The world's top eight tennis stars, including Andy Murray and Novak Djokovic have joined in. Solid effort - cheesy selfie.
Spain football team:
It seems like this was a direct reply to Jamie Vardy's attempt. The Spain team appear to have put a lot of planning into this. Poor Juan Mata.
Portugal football team:
And the award for the most flesh on show in a mannequin challenge goes to... the Portugal national football team.
This seems to be Cristiano Ronaldo's default position - in his pants.
BBC Sport's NFL Show:
The BBC's NFL show give it their best effort. Pretend you can't see the string but note Jason Bell and make up artist Sally-Ann's shocked faces at Osi Umenyiora's laptop...