World Surfing Games: Jhony Corzo claims first title for Mexico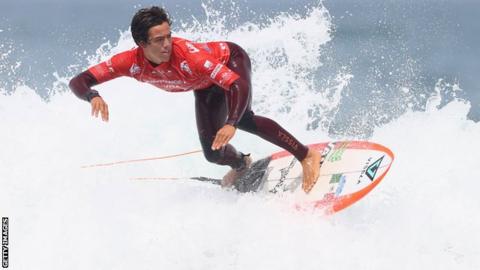 Mexico's Jhony Corzo claimed the country's first world surfing title with victory in the final of the World Surfing Games in Biarritz.
The 18-year-old came through with a score of 14.5 ahead of French home favourite Joan Duru in second with 13.9.
Pedro Henrique of Portugal took bronze.
England's surfers exited the competition, the first since surfing was named an Olympic sport, midway through the competition on Saturday.
"It's a dream come true as there are some top surfers here. I think it's going to change my life," said Corzo.
A handful of British surfers made it past round two.
Of those, Jayce Robinson, from St Ives, and Bude's Reubyn Ash made it furthest to round four.
Luke Dillon from Newquay, the highest ranked British surfer in the professional World Surfing League, fell at the third round.
Robinson said: "Against some of the best guys in the world it was a good result for England."
What is the competition?
The World Surfing Games is put on by the International Surfing Association (ISA), the world governing body that will organise the surfing event at Tokyo 2020, where the sport makes its Olympic debut.
The ISA is distinct from the World Surfing League - which organises the professional circuit.
This year, for men there were five rounds followed by semi-finals and a final. There was also a repechage round after round one.
For women there was four rounds.
A surfer's best two wave scores are added together to make their total, with the top two surfers from each heat progressing to the next round.
How big is the event?
With its Olympic inclusion the event has almost doubled in size.
In 2016, 26 countries took part in Costa Rica. This year, a record 47 countries have been represented - including some first-time entrants from Afghanistan, China, Chinese Tapei, Greece, Senegal and South Korea.
However, only a small number of the world's top-ranked professionals from the WSL took part - mainly those from the host country, France, who claimed the team gold medal.
Around 20 male and female surfers from England, Scotland, Wales, the Channel Islands and Ireland also took part.
At the moment, the plans for the Tokyo Olympics are for a men's and women's competition consisting of 20 athletes each.
The International Olympic Committee will set its guidelines for qualification in July, with the finalised qualification route to be revealed in 2018.