Island Games 2017: Guernsey and Jersey share 18 gold medals on day two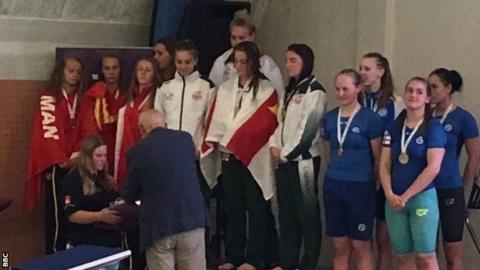 Guernsey and Jersey shared 18 gold medals on day two at the Island Games, with gymnastics and swimming taking centre stage in Gotland.
Cameron Aird won in the floor and rings events as Jersey took five gymnastics golds to stay top of the medal table.
In the pool, Tom Hollingsworth won 50m backstroke silver and was also part of Guernsey's 4x50m medley relay success.
A young Guernsey women's 4x50 freestyle team earlier broke a Games record on their way to clinching gold.
The youthful quartet of Courtney Butcher, Laura Le Cras, Orla Rabey and Tatiana Tostevin swam home in a time of 1:45.86 to beat Bermuda's previous record, set in 2013.
Henry Cliff, Ben Lowndes and Miles Munro teamed up with Hollingsworth for Guernsey's relay win, with the Sarnians remaining fourth in the medal table behind the Isle of Man and the Faroe Islands.
Jersey's Gemma Atherley won gold in the 200m freestyle, with Zee Adamson, Bonita Shurmer and Andre Romeril also victorious for the reds in gymnastics.
Parker leads Jersey to tennis gold
Despite the absence of Scott Clayton, who has been given a doubles main-draw wildcard for Wimbledon, Jersey beat hosts Gotland 2-0 in the men's team final to claim tennis gold.
Stuart Parker won his rubber 6-1 6-4 and team-mate Mike Watkins wrapped up the title with a 6-4 7-5 victory.
"We targeted this event before we came out here, we knew we were a pretty strong favourite," Parker told BBC Radio Jersey.
"But it's difficult in these conditions, they're really, really tough - but we managed to tough it out."
Guernsey got one over on their rivals in badminton, with Chloe Le Tissier and Elena Johnson beating defending champions Jersey 21-9 21-12 in the final to claim the title.
Gray hits the target for Guernsey
Lisa Gray played a part in both of Guernsey's archery golds, taking the women's recurve before joining Jason Clarke, Fiona Falla, Chantelle Goubert, Jason Le Page, Wayne McKane and Paul Taylor to win the team equivalent.
Conditions on the Swedish island were described as "challenging" because of strong winds and showers, but the Sarnians picked up seven medals in the sport.
Jersey were just as accurate in the shooting, Sarah Campion taking individual gold by six points ahead of team-mate Susan de Gruchy.
Hinds hat-trick rescues Jersey draw
Jersey's men's side stayed top of their group on goal difference as Karl Hinds scored a hat-trick in the last 20 minutes to salvage a 3-3 draw with Menorca, having been three goals down.
However, Alderney's hopes of reaching the knockout stages are over after they suffered their second 3-0 defeat in two days, this time at the hands of Orkney.
In Group C, Ross Allen and Charlton Gauvain were on target for Guernsey as they beat Shetland 3-0, putting them top on four points.
Simon Geall, captain of the Sarnians, told BBC Radio Guernsey: "Two years is a long time in football so you never know what changes, you don't know what type of team you're facing.
"Every time I've played Shetland in the Island Games they've been a really difficult side to face and to get three points from."
Perrio and Chalmers shine on the track
Guernsey stole the show in the day's athletics action - Louise Perrio winning 10,000m gold thanks to a late surge down the home straight.
The Sarnian's big hope, Cameron Chalmers, pulled out last week to focus on securing a World Championships slot, but his younger brother Alastair took the 400m title ahead of team-mate Sam Wallbridge.
It was also the day of the cycling team time trials, with Jersey and Guernsey winning one gold apiece.
Jersey's Dan Halksworth, who won the triathlon on Sunday, teamed up with Sam Firby, Howard Greenside, Jack Rebours and Jon Woolrich to win the men's race by three seconds in front of Guernsey.
But, not to be denied, Karina Bowie, Daniell Hanley, Charlotte Le Lievre, Dianne Tierney and Joanna Watts won the women's race for Guernsey to ensure a share of the spoils.