Island Games 2017: Guernsey overtake Jersey in medal table with five golds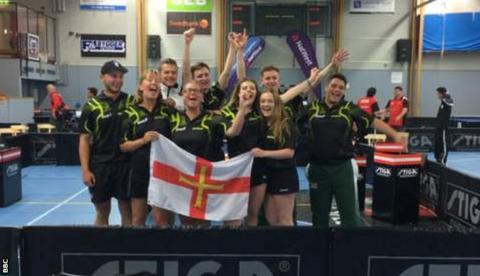 Guernsey clinched five golds on day three of the Island Games, including two in swimming, as they overtook Jersey in the medal table.
Tom Hollingsworth took his third title, the 100m butterfly, with the Sarnians also winning the 4x50m freestyle relay.
They also won top honours in the team table tennis, beating Greenland 4-3 in a nail-biting final.
Guernsey also triumphed in mountain biking and archery events as Jersey did not add to their tally of 14 golds.
Lisa Gray, who won two titles on Monday, teamed up with Jason Le Page to take the mixed recurve archery gold, while James Roe's biking victory came in the cross-country discipline by one second.
Roe told BBC Radio Guernsey: "I'm absolutely buzzing. Better than I could have expected. Obviously you hope for that, but there are some awesome riders here."
The Sarnians' table tennis triumph went down to a decider, Josh Stacey holding his nerve to win with help from team-mates Garry Dodd, Dawn Morgan and Samantha Kershaw.
Mixed emotions for Jersey's Atherley
Having been on the top step of the podium in the 200m freestyle on Monday, swimmer Gemma Atherley won a silver medal 100m breaststroke to add to her collection.
Atherley thought she had made it two silvers for the night when she finished second in the 200m individual medley, but was disqualified by officials for failing to touch the side of the pool currently on the turn.
Peter Irving claimed Jersey's other silver on day three in the 110m hurdles.
There were three bronze medals to add to Jersey's overall tally - coming in the mixed compound archery and both the men's and women's cross-country mountain biking.
Jersey out of men's football, but Guernsey sneak through
A big week for Jersey football started in disappointment as their men's side crashed out of the group stage despite a 3-0 triumph over Orkney.
Menorca's 6-0 thrashing of Alderney, which included a 90th-minute strike, meant Jersey were nudged off top on goal difference - by just one goal.
"We're really disappointed because this team was good enough to go all the way, but you sometimes don't always get what you deserve," said boss Martin Cassidy.
On Wednesday the Jersey Football Association will continue their bid to join Uefa as they go to the Court of Arbitration for Sport (CAS), though a decision is not expected for several months.
Guernsey, meanwhile, could only draw 1-1 with Saaremaa - Ross Allen getting their goal - but Aland could only beat Shetland 2-1 meaning the Sarnians progress on goal difference to face the Isle of Man in Thursday's semi-final.
Lucky number 13 for Guernsey
In all Guernsey won 13 medals on day three to move up to third in the overall table, below just the Isle of Man and Faroe Islands.
Orla Rabey built on her 4x50 freestyle swimming gold by taking bronze in the 800m freestyle, while on the track a long-standing island record was broken.
Indi Gallagher, 17, ran the women's 400m final in 56.48 seconds to claim third place and beat Kim Goodall's previous Guernsey best of 56.81, which stood for 12 years.