Commonwealth Youth Games: Manx team departs for Bahamas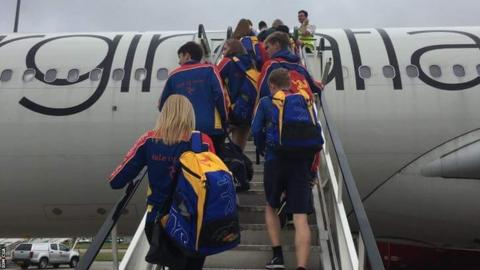 A team of eight will represent the Isle of Man at the largest-ever Commonwealth Youth Games in the Bahamas this week.
The Commonwealth Games is the biggest international multi-sport event in which the Isle of Man is allowed to compete as an independent state.
The Isle of Man Commonwealth Games Association said the team will compete in swimming, cycling and athletics.
More than 1,300 people, aged 14-18 from 71 countries, will compete on the Caribbean archipelago.
The team includes four swimmers, three cyclists and a runner.
Four officials will also travel with the team, including team manager Rosemary Kinley who said she was "very optimistic".
Joel Watterson, Kazia Whittaker, Emma Hodgson and Euan MacMurchie will compete in the pool, whilst David Mullarkey races the 1,500m.
Meanwhile, Thomas Bostock, Will Draper and Tara Ferguson will compete in an individual time trial and road race.
IOMCGA president Basil Bielich said it will be a fantastic experience for the young team to compete at international level whilst representing the Isle of Man.
"I'm sure they will do us all proud," he said.
The opening ceremony for the four-day event, first staged in 2000, will be held on Tuesday with competition starting on Wednesday.
The Isle of Man has won four medals at previous Commonwealth Youth Games, three of them in 2011 when it hosted the event.
Silver
2015 in Samoa - Mathew Rennie - Boxing (64kg)
2011 in the Isle of Man - Grant Halsall - Swimming (Men's 50m Backstroke)
2011 in the Isle of Man - Grant Halsall - Swimming (Men's 200m Backstroke)
Bronze
2011 in the Isle of Man - Grant Halsall - Swimming (Men's 100m Backstroke)