Catalan referendum: Rafael Nadal & Pep Guardiola concerned after violent clashes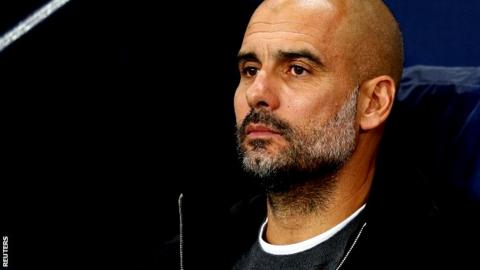 Spain's world number one Rafael Nadal and Manchester City manager Pep Guardiola have spoken out following Catalonia's independence referendum on Sunday, which was marred by violence.
Catalan medics said 844 people were hurt in clashes at a poll the Spanish government and courts declared illegal.
Tennis star Nadal told reporters he was "stunned" and "felt like crying".
Guardiola said: "The images don't lie, there were people who wanted to vote and they've been attacked."
Officers from the national police and paramilitary Civil Guard seized ballot papers and boxes at polling stations.
In the regional capital Barcelona, police used batons and fired rubber bullets during pro-referendum protests.
The situation led to Barcelona's La Liga game at home to Las Palmas being played behind closed doors.
Nadal, 31, spoke out before the referendum to condemn it but, talking in Beijing ahead of this week's China Open, said he had watched events of the weekend unfold "with concern and sadness".
The 16-time Grand Slam champion grew up in Mallorca but is also a Catalan speaker, and a 10-time champion at the Barcelona Open.
He said: "I want to cry when I see a country where we have known how to co-exist and be a good example to the rest of the world get to a situation like this.
"I think the image we have presented to the world is negative.
"It was a sad moment, my heart sank all day. I have spent many parts of my life in Catalonia, important moments, and to see society so radicalised surprises and disheartens me."
Catalonia's leader Carles Puigdemont says the region has won the right to break away from Spain after almost 90% of voters chose independence.
Guardiola, 46, was born in Barcelona and played for and managed the club. He said: "There are more than 700 hurt - people who were going to vote, not rob a bank.
"Spain will try to hide the reality, but the rest of the world's media will show it. The images are clear and everybody knows what has happened.
"We don't want them to think that we don't like Spain.
"Spain is an incredible country, with its literature, sport, cities. But you need to understand that there's a population who want to decide their future."