Hannah Mouncey: AFLW block transgender athlete from 2018 draft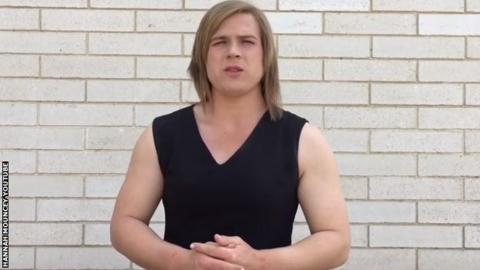 Transgender athlete Hannah Mouncey has been blocked from taking part in next year's Australian rules football professional women's league.
In barring her from Wednesday's AFLW 2018 draft, the AFL said it took into consideration "transgender strength, stamina, physique, along with the specific nature of the AFLW".
Mouncey, 27, a former member of the Australian men's handball team, said she was "extremely disappointed".
The ruling is for the 2018 event only.
The AFL Players Association (AFLPA) accused the AFL of lacking "clear guidelines for transgender players".
Its statement added: "No athlete should face such confusion around their eligibility for an elite competition just days out from a draft."
Mouncey, who is 6ft 2in and weighs 15st 8lb, has played eight matches and kicked 17 goals for Ainslie in the Canberra Women's League.
She is allowed to nominate herself for future AFLW drafts and play in other Australian rules football competitions.
Mouncey said in a statement: "While I am extremely disappointed with the AFL's decision regarding my participation in Wednesday's AFLW draft, I thank them for the genuine way in which they approached my situation.
"Despite not being able to take part in the draft, the AFL has given me the all clear to play for Ainslie next year in the AFL Canberra competition for which I am very grateful and look forward to doing in 2018, before hopefully being able to nominate for next year's draft".
The AFLW's second season starts in February.
The decision was made by an AFL subcommittee, which took into account "the stage of maturity of the AFLW competition, its current player cohort and Ms Mouncey's individual circumstances".
The AFL's general manager of inclusion and social policy, Tanya Hosch, said: "Hannah's passion for football is undeniable, and I want to thank her and her team for their constructive participation in the decision-making process."
"Every case will be decided on its own merits along with the individual circumstances of each future nominee.
"We acknowledge Hannah's openness and cooperation. She has contributed to a process which will substantially inform the development of the AFL's transgender policy and procedure for future players at the elite level."