Pole dancing: Could it one day become an Olympic sport?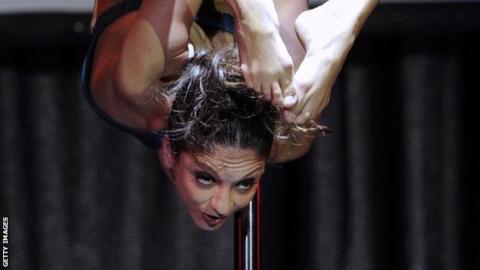 Could pole dancing become an Olympics sport? It's not as far-fetched as you might think...
That's because pole dancing - or pole, as the International Pole Sports Federation (IPSF) prefers - has been recognised by an international sporting body for the first time.
It has been given "observer status" by the Global Association of International Sports Federation (GAISF) - meaning it is provisionally recognised as a sport.
That is largely the result of a campaign by Katie Coates, a 41-year-old from Hertfordshire, who founded the IPSF and told the Daily Telegraph: "I feel like we have achieved the impossible, everyone told us that we would not be able to get pole dancing recognised as a sport."
The IPSF emphasises that pole dancing is about "athleticism and technical merit", in line with "other Olympic standard sports such as gymnastics, diving and ice skating".
So even though it may be closely associated with strip clubs, a performance does not have to contain an erotic element.
However, there is a big debate within pole dancing about how much it should be separated from its origins.
In 2015 and 2016 various people who pole dance shared photos on Instagram using the hashtag #Notastripper - something that some strippers objected to, both because they perceived it as stigmatising sex workers and because they feel pole dancing is an art form they invented.
Pole's authorities argue that it is not only a sport, but that it is a sport appropriate for all ages and audiences. The IPSF runs competitions for ages from 10 to 65.
But does a broad, global public agree? Olympic authorities may decide it would be more controversial than it is worth.
Before we get to that point though, there are other considerations.
A sport can only become eligible for Olympic consideration if it meets three key criteria.
It must be signed up to the World Anti-Doping Agency, which pole is
It must be a full member of the GAISF, which pole is now working towards
And it must have 50 national federations
At the moment, pole dancing has around 20.
The GAISF recognition lends weight to IPSF's application for membership of the International Olympic Committee (IOC) - while pole dancing's equivalent body in the UK, the British Federation for Pole Dancing, can now apply for national sports recognition through the Department for Digital, Culture and Sport.
And a bit of perspective can be gained by looking at what other bodies were given observer status by GAISF - among them the World Armwrestling Federation, the World Dodgeball Association, the International Union of Kettlebell Lifting and the International Table Soccer Federation.
So there is still a long, long way to go.
Know your pole
The World Pole Sports Championships is in its sixth year
Judging is split into four categories: flow; compulsory moves; creativity and deductions
There are 11 required moves in a pole dance, but points are awarded for creative ways of linking them
46 pole dancers competed at the first Worlds in 2012; there were 229 in 2017
Five men competed at the first Worlds in 2012; there were 40 in 2017
All but three pole sport federations are run by women
3,000 athletes compete at pole sports during a yearly cycle