Commonwealth Games Federation had '170 queries' over Birmingham's 2022 bid
Last updated on .From the section Sport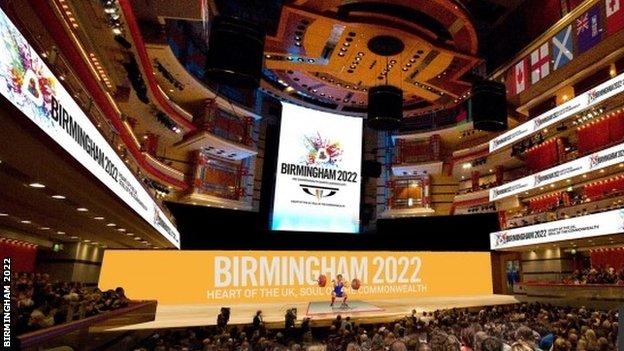 The Commonwealth Games Federation raised "170 detailed queries" when deeming Birmingham's bid for the 2022 event non-compliant, but organisers remain "quietly confident" of hosting.
No new bids have yet been announced.
Commonwealth Games England chairman Ian Metcalfe told BBC Sport some "fine details" had to be resolved, but said Birmingham's bid was "in good shape".
Birmingham beat Liverpool in September to be Britain's candidate city and its bid has been backed by the UK government.
Metcalfe said it was "a tiny disappointment but not a big surprise" that the Commonwealth Games Federation (CGF) had decided to re-open bidding for an event that was initially awarded to Durban in September 2015.
However the South African city was stripped of the event in March as it did not meet the organisers' criteria.
Metcalfe says the speed with which the Birmingham bid was compiled led to aspects of varying degrees of importance being pinpointed by the CGF, but he is confident they will be addressed to the federation's satisfaction.
"We recognised that with our bid we had done in just under six months what normally takes two years to do," he added.
"There were around 170 detailed queries about aspects of the bid, some were important around the athletes' village, some were relatively minor, I think the federation accepts that themselves.
"There are a different range of issues, things that need to be resolved, but there is a productive conversation between a group of partners looking to arrive at a situation where we can give the federation certainty that, if given the games, we can host an inspiring event.
"We're very excited about the possibility, but ultimately the decision is for the federation.
"We spent two days last week with them but we don't know how strong any other bids are. There are still opportunities for others to come along, but we are quietly confident."