Conor McGregor: UFC champion wants to fight a boxer in a mixed martial arts bout
Last updated on .From the section Boxing31
Conor McGregor says he wants a boxer to "come into his world" and fight him in a mixed martial arts bout.
The 29-year-old made his boxing debut against former five-weight world champion Floyd Mayweather in Las Vegas in August, losing by a 10th-round stoppage in one of the richest boxing bouts of all time.
McGregor says his next fight will be to defend his UFC lightweight title.
"Right now I am focused on my world, the world of true fighting," he said.
Speaking to the BBC, the Irishman added: "Ideally I would like to take one of the boxers into an MMA bout - someone come into my world now.
"I went into their platform and faced the so-called best-of-the-best and I handled him pretty easily in the early rounds, before I got fatigued and got stopped.
In a wide-ranging interview, 'The Notorious' discusses a rematch with Mayweather, his feud with Paulie Malignaggi and the problems arranging his next UFC fight.
'I will not call Mayweather out of retirement'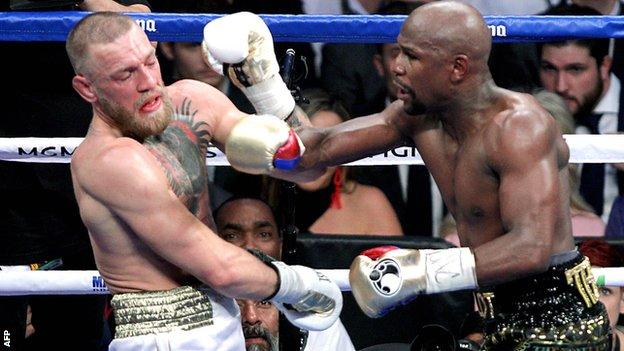 Mayweather, 40, came out of retirement for the fight and extended his perfect career record to 50 wins against McGregor in one of the most-hyped bouts of all time.
McGregor impressed in the early exchanges before tiring in the later rounds.
But the Dubliner says he would beat the American in a rematch by changing his preparation.
"He [Mayweather] was a tactical genius in there, he changed his gameplan three times and that is the sign of a true champion," said McGregor.
"If it happened in a rematch, it's a simple adjustment of me having a heavier sparring partner coming in the later rounds, leaning on me and walking me down.
"My sparring in the lead-up to the camp was always against fast-twitch, light-on-their-toes opponents, I was never against forward pressure because he [Mayweather] had never fought like that. That took us by surprise and I got beat,
"But if we had a rematch I would correct that and beat him."
Speaking about a possible Mayweather rematch, he added: "He's retired, I will not call him out, I respect what he has done."
Asked if he would get back in a boxing ring, McGregor replied: "Of course, boxing is certainly an interest of mine. But the next fight will be to defend my UFC lightweight belt."
'It's hard to get excited by a UFC fight'
McGregor, who has a UFC record of 21-3, last fought inside the octagon in November 2016 when he beat Eddie Alvarez for the lightweight title.
He is reportedly in talks about a fight with American Tony Ferguson, but McGregor says he is "not excited" about the current negotiations.
McGregor earned around $100m (£77.5m) from the Mayweather fight.
"We are in the negotiations stage right now and that is a lengthy process, they have got to make me excited about it," he said.
"I came from a crazy event, a record-breaking event - I made insane money. The opponents they are trying to line up for me have a $600,000 gate in Las Vegas - $600,000 in Las Vegas is unheard of, it is abysmal.
"It is hard to get excited by that, 100,000 pay-per-view buyers compared to my 6.5 million.
"Can they entice me? No doubt they can. Have they yet? No."
'Malignaggi fight could happen'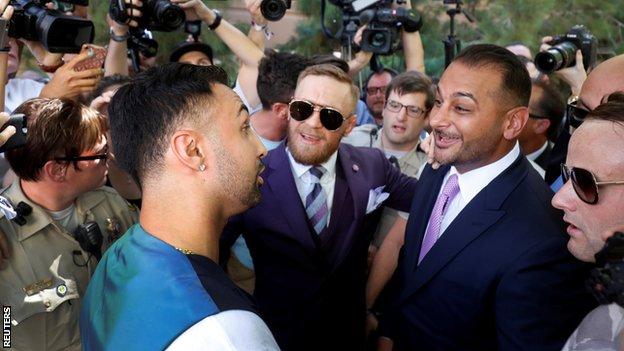 Former WBA welterweight champion Paulie Malignaggi quit as McGregor's sparring partner before the Mayweather fight, saying he felt "exploited" by the Irishman's camp, causing the pair to fall out.
Malignaggi, 36, has said there have been talks over a fight and McGregor said he believes it could happen "down the line".
He said he wants a "real fight" with the American, adding: "No footwear, no referee, a fight where there is no-one to save you from the clinch, no-one to pick you back up, you must get yourself back up like a real fight.
"His brother is a brown belt in Brazilian jiu-jitsu so that is an avenue for him to learn the discipline, but I would also box him."
Being a role model
McGregor apologised for using a homophobic slur at a recent UFC event, and has claimed that he meant "no disrespect to anybody in the LGBT community" in an appearance on RTE's The Late Late Show.
The Crumlin native says he is "grateful" for the support of his fans and thinks his story is "relatable".
He said: "I'm just a young kid from the middle of nowhere. Where I come from you are not supposed to be in this position or climb to these heights.
"People relate to me, I am a normal kid and I rose up through hard work, dedication and belief in myself. They have latched onto it and I am very grateful for it."
And finally....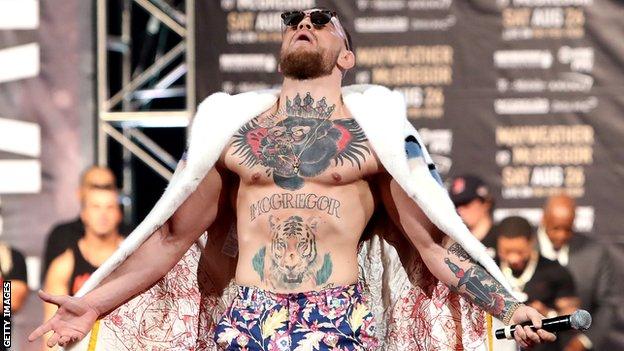 How did you get 'The Notorious' nickname?
"My coach originally called me trouble, he had me saved in his phone as 'trouble', that was where it began. I was notorious for getting into trouble or my mouth would get me into trouble.
"Then I believe there was a fight and there was no entrance music, the DJ came back and said we have this song and that song, and one of them was Notorious and it stuck.
"I was a notorious individual and it was presented to me as a song and it rose out of that and took a life of its own."