Football and rugby clubs back Rainbow Laces anti-homophobia campaign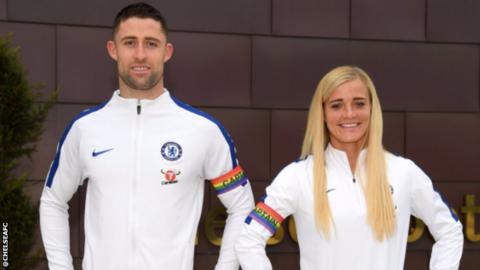 Football and rugby players, managers, clubs and officials proudly displayed the colours of the rainbow on their shoelaces, flags and stadiums on Saturday to show their support for a campaign against homophobia in sport.
The Rainbow Laces campaign, created by LGBT equality campaigners Stonewall, was backed by sportspeople at all levels, from non-league to the Premier League.
Rainbow Laces aims to tackle homophobic, biphobic and transphobic attitudes in sport. Stonewall says 72% of football fans have heard homophobic abuse.
The Wembley arch was lit up in rainbow colours for the campaign after Tottenham's 1-1 draw with West Brom. A message displayed on the stadium read: "Tottenham Hotspur proudly supporting Stonewall's Rainbow Laces campaign."
Championship club Norwich City featured a profile of Justin Fashanu on their match programme cover for the 1-1 draw with Preston. The former Canaries forward was the first professional footballer to come out as gay, in 1990. He killed himself eight years later. No openly gay professional footballers have played in England since.
Manchester United skipper Antonio Valencia was pictured with a captain's armband in rainbow colours.
The fourth official displayed an LED board with rainbow colours during the Premier League match between Newcastle and Watford at St James' Park.
England's rugby union co-captain Chris Robshaw wore rainbow laces during England's 48-14 win over Samoa at Twickenham.
A mascot held a flag displaying colours in support of the campaign before Swansea City's goalless draw with Bournemouth.
Referee Carl Boyeson and his assistants Michael Webb and Marc Wilson posed with a corner flag in rainbow colours before the League One match between Northampton Town and Bury at Sixfields Stadium
Liverpool manager Jurgen Klopp wore rainbow laces for the game with Chelsea at Anfield.
There was a multi-coloured corner flag at the Fylde coast derby between Fleetwood and Blackpool in League One.
Players at non-league Norwich CEYMS, who play in the Anglian Combination Premier Division, also showed their support.
A steward handed out rainbow laces before the Premiership match between Leicester Tigers and Worcester Warriors. The colourful laces were handed out to fans at all of Saturday's Premiership fixtures.
A touch judge at the Premiership match between Leicester Tigers and Worcester Warriors at Welford Road had the rainbow colours on his flag.
Police also got involved - a police car parked outside Anfield before Liverpool's match with Chelsea displayed the colours of the rainbow.