Why sport on Christmas Day is actually not all bad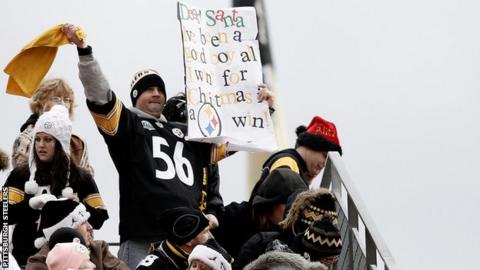 When the Premier League opted against having a Christmas Eve fixture this year, that was widely heralded as a victory for the travelling football fan.
But sport at Christmas is not all bad, right?
BBC Sport has asked players from the Golden State Warriors how they cope with playing in the NBA on the biggest holiday of the year.
And we've spoken to the Pittsburgh Steelers about their mammoth 1,143-mile Christmas Eve journey to play Houston Texans in the NFL.
There's also the manager who recently lost his wife to cancer, who is grateful for the "focus" of trying to lead his team to glory in one of Europe's oldest cup competitions on Christmas Day...
'Doing what you love on a beautiful holiday'
This is the 70th year the NBA has held games on 25 December - the tradition dates back to 1947, the year after the league was started.
It is the third consecutive year the Cleveland Cavaliers and Golden State will meet on Christmas Day and the game is a repeat of June's NBA finals, which the Warriors won.
"If the NBA schedules you to play on Christmas Day it's an honour," Golden State shooting guard Klay Thompson said.
"I remember watching as a kid and to be a part of it as an adult is so special, doing what you love on a beautiful holiday."
The Warriors are the home team this year, meaning Cleveland will have to travel 2,154 miles to the Oracle Arena in Oakland.
Indeed, this is the 27th time the Warriors have played on Christmas Day, with the New York Knicks playing in a record 52nd Christmas Day game this year.
'You understand the sacrifices'
This is the second year in a row the Pittsburgh Steelers have played on Christmas Day.
The team have already won the AFC North Championship and, with the play-offs around the corner, their vice president of football and business administration Omar Khan says it is "business as usual".
On Christmas Eve, around 130 players and staff will make the three-hour flight on a chartered plane to Houston, returning after the game on Christmas night. The only nod to the festivities might be that the team's dinner at the hotel could be "dressed up" on 24 December.
"We all appreciate Christmas and spending time with the family, but in this business you understand the sacrifices you need to make," Khan said.
The players will get 26 December off as Tuesday is their usual rest day, but will be back the following day working towards their New Year's Eve game.
NBA & NFL teams rack up the miles
Fixture
Miles travelled by away team
New York Knicks v Philadelphia 76ers (Madison Square Garden, New York City)
86 miles
Boston Celtics v Washington Wizards (TD Garden, Boston)
394 miles
Oklahoma City Thunder v Houston Rockets (Chesapeake Energy Arena, Oklahoma)
415 miles
Los Angeles Lakers v Minnesota Timberwolves (Staples Centre, Los Angeles)
1524 miles
Houston Texans v Pittsburgh Steelers (NRG Stadium, Houston)
1143 miles
Golden State Warriors v Cleveland Cavaliers (Oracle Arena, Oakland)
2154 miles
Philadelphia Eagles v Oakland Raiders (Lincoln Financial Field, Philadelphia)
2509 miles
'It's the first Christmas without my wife'
While the football programme in the rest of the UK is centred on a busy Boxing Day, the Steel and Sons Cup is up for grabs in Belfast on Christmas Day.
The game has been a festive fixture on the Northern Irish football calendar since 1895 and is played between teams at reserve and intermediate level. This year, defending champions Linfield Swifts face Newington FC on Christmas morning.
"It's a very traditional final and there will be a massive crowd there," said David Dorrian, who took over Linfield's reserve side in August. "It is very prestigious at the level of football we are at."
The final at Seaview Stadium kicked off at 10:45 GMT, with thousands of fans expected.
It will be a particularly poignant day for Dorrian, who lost his wife Debbie to cancer in June.
"The team has given me something to focus on," the 54-year-old said. "I would have been in a bad way if I had not been given the opportunity and I am very grateful.
"It would be amazing for me and such a lift - something good happening to me this year as it is the first Christmas without my wife."
Dorrian, who will host his family on Christmas Eve and Christmas Day, will head down the road to Seaview with his son Glenn, who is also a coach.
"If my wife was still here, she would have been not too happy with me being out Christmas morning," added Dorrian, who hopes to return home to his grandchildren to celebrate a win over Christmas dinner.