Russian doping: IOC accused of 'cowardice' over Rodchenkov

By Dan Roan
BBC sports editor
Last updated on .From the section Sport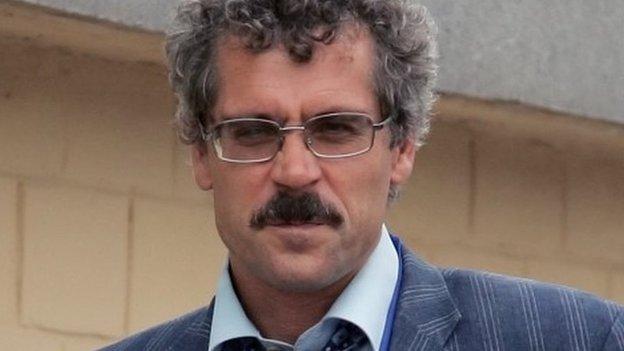 The International Olympic Committee (IOC) has been accused of "cowardice" for failing to help a former Russian anti-doping official turned whistleblower.
But his lawyer - Jim Walden - has now accused Russia of "stepping up its retaliation" by secretly lobbying for his extradition.
"If they succeeded, Dr Rodchenkov would face death and torture at their hands," he warned.
Walden said the IOC had "refused to lift a finger to help him", and suggested threats to his client's safety may force him to stop providing evidence to the authorities.
The IOC said it "categorically denies" Walden's claim that it had refused to help, stressing it had sought special protection for Rodchenko as a whistleblower - though pointed out "it is not in its powers to protect witnesses".
Background
Rodchenkov's shock revelations triggered investigations by both the World Anti-Doping Agency (Wada) and the IOC.
Earlier this month, the IOC confirmed "the systematic manipulation of the anti-doping rules and system". Russia has repeatedly denied running a state-sponsored doping programme, but was told its athletes could only compete under a neutral flag in Pyeongchang in February.
Russia's investigative committee has said it will ask the US to extradite Rodchenkov, the former head of Moscow's anti-doping laboratory. President Vladimir Putin has also suggested the whistleblower may have been drugged by the FBI to coax a confession, something Walden described as "comical".
"Russia knows that the IOC is planning to rely on Dr Rodchenkov's testimony at the Court of Arbitration for Sport, where dozens of banned Russian athletes have filed appeals from their personal lifetime bans for doping," he said.
"Obviously, Russia would like to silence Dr Rodchenkov and make his testimony in these cases impossible.
"The real actor with power in this drama is the IOC, which could fully ban even 'neutral' Russian athletes from the Olympics, prevent them from marching in closing ceremonies, or ban them from future Games based on Russia's continued intransigence.
"Unfortunately, the IOC - who relied so prominently on Dr Rodchenkov's testimony in banning Russia from the Olympics - refuses to lift a finger to help him.
"The IOC must act. I asked to meet with its officials... I made suggestions on how the IOC could end this campaign against Dr Rodchenkov, by requiring that Russia cease its retaliation... I was told - point blank - that the IOC would take no action against Russia for retaliating against Dr Rodchenkov."
Despite being banned from the Olympics, Russia is preparing to host the World Cup next year - Fifa is under pressure to act after allegations that a host of Russian footballers were beneficiaries of the country's doping conspiracy.
But Walden issued the following warning: "Perhaps if Dr Rodchenkov were 'no longer available', the corrupt persons who fought against a full ban against Russia would be happy. A problem would be solved.
"The currently unreported remainder of Dr Rodchenkov's evidence of international corruption and bribery would be buried.
"As the IOC knows, Dr Rodchenkov also has information about doping in soccer, so Fifa could ignore any evidence of doping by Russia's soccer team.
"My job is, among other things, to ensure Dr Rodchenkov's safety at all costs. Although he is a courageous man and fully committed to co-operation, as his lawyer I have to consider whether he should continue to compromise his own safety in order to provide evidence to the IOC.
"One thing is certain - if the IOC's inaction is what whistleblowers can expect, no whistleblower should ever again come forward with information about fraud in the Olympics. Had I known of the IOC's cowardice, I might have urged a different path."
Walden's claims were firmly rejected by the IOC, however.
"The lOC categorically denies Mr Walden's claim that the IOC has taken no action and the ridiculous assertion that we would like it if Mr Rodchenko 'were not to be available'," it said.
"The IOC co-ordinated with Wada (the World Anti-Doping Agency) who wrote to the Russian sports minister and the lOC to the Russian Olympic Committee to make it clear that Mr Rodchenko deserved protection as a whistleblower.
"The IOC is in contact with Mr Rodchenkov's lawyers through its own lawyers and has never at any time refused any dialogue."