Watch the Roller Derby World Cup live on the BBC
Last updated on .From the section Sport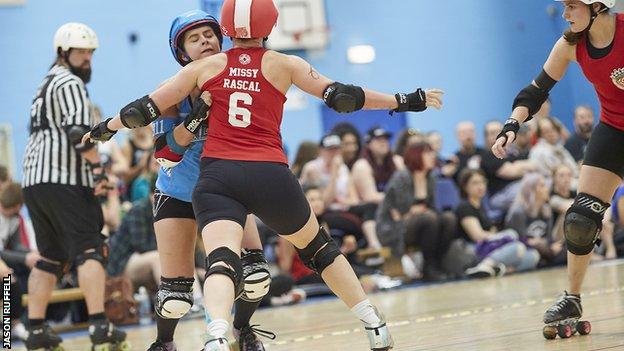 Roller Derby World Cup 2018
Date:
Sunday, 4 February
Time:
15:30-21:00 GMT
Coverage:
Watch live on the BBC Sport website, app and connected TVs.
The whistle blows. Two teams hurtle around an oval track in a bid to lap each other.
They use brutal shoulder, hip and full body checks to knock the opposition off balance.
The sound of wheels on wood and shouted strategy make for a chaotic atmosphere, and bones are sometimes broken.
There are contact sports - and then there's roller derby.
If you've always wanted to watch this non-stop, tough-as-nails sport but have never had the chance, you're in luck.
Women's teams from 38 countries, including Costa Rica, Russia, Iran, the Philippines and Korea (they have deliberately not specified North or South), will descend upon Manchester for the Roller Derby World Cup - and BBC Sport will be there to stream the final day live.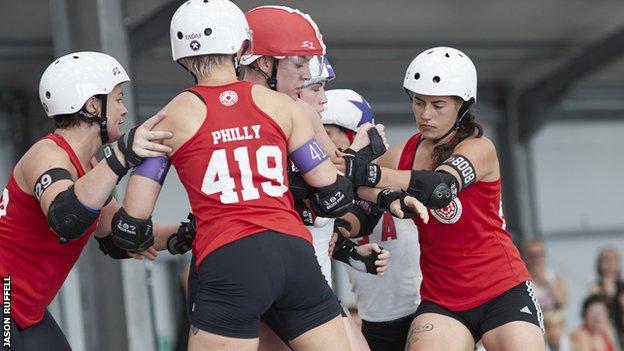 We spoke to Team England captain Lynn Huynh – aka Shaolynn Scarlett (we'll come back to that) – about representing the tournament's host country.
"It's incredibly exciting," she says, having briefly stepped away from her office desk.
Huynh is a marketing manager for a charity but tells us England's national team consists of graphic designers, PhD students, academic researchers in university labs... "all sorts".
She says: "The sport's origins are in the United States so it's really big news that the World Cup is happening in the UK. It's a huge deal."
So, what can you expect?
The term 'roller derby' may mean nothing to you - allow this video to explain further.
"People can expect to see an incredible display of athleticism, strategy and teamwork," Huynh tells us, but recognises the sport is not for the faint-hearted.
"I'm a blocker [a pack skater who blocks the path of the point-scoring 'jammer'] and I have broken my leg three times doing this sport.
"I first broke my right fibula, which ruled me out of the 2011 World Cup. Then, four years ago, I broke my left tib-fib and had surgery to have a nail put in.
"Then, about this time last year, I broke my right leg, had another operation and have spent the last 12 months trying to get back to fitness to compete at this World Cup."
Despite the obvious risks, the England captain is keen to point out roller derby is not a law unto itself. There are strict rules and often more than a dozen officials overseeing a match.
"Roller derby is often branded 'violent' because it is unusual to see a group of women being that aggressive to each other with no repercussions.
"You are throwing your body around at other people on wheels, so that element is unavoidable. Your body has a way of lessening the pain – I am not quite sure how it does it - but it does!" Scarlett* laughs.
*Hang on, what's with the alternative names?
Well, just like Beyonce has her onstage persona – 'Sasha Fierce' – many skaters adopt a 'skate name'.
These names were traditionally a way to show the sport had a personality and was different from the 'jock culture' of other American sports.
"We really take pride in the fact it's a female-driven sport and an open and inclusive one," says Huynh, aka Scarlett. "It's not about what these women are wearing or what they look like."
Names are often puns – perhaps related to who you are or what you do.
Team England's roster includes 'Delta Strike', 'Jack Attack', 'Kid Block', 'Menace' and 'Rogue Runner' (who's known for her speed and is one of the top 'jammers' around).
"People skate to escape the grind or to find a different part of themselves so their skater name can become an extension of the person," Scarlett says.
Other skaters appearing at the World Cup include 'Kreme de la Kremlin' (Russia), 'Whack Russell Terrior' (Philippines), 'Roc-A-Felon' (West Indies), 'Slamurai' (Japan) and 'The Duchess of Crutches' (Poland).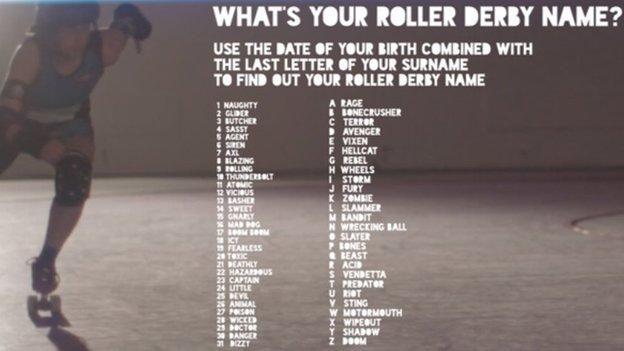 So, what are England's chances at the World Cup?
Having narrowly missed out on the top prize in 2014, England go into the meet as one of the favourites.
Wales and Scotland are also looking to capitalise on the 'home' crowd to carry them into the latter stages of the tournament.
But with the sport's origins in North America, Scarlett refuses to underestimate the current holders.
She says: "We're all terribly British and the Americans, who have traditionally been head and shoulders above everybody else, often comment on how polite we are.
"But we have an experienced squad along with some really exciting individual skaters, so we have a really good chance."
You can watch the final day of the World Cup on the BBC Sport website, app and on connected TVs to see who will be crowned 2018 World Cup winners.
But be warned: it IS addictive and you WILL want to take up the sport immediately.