Gender pay gap: Football Association figures show 23.2% gap
Last updated on .From the section Sport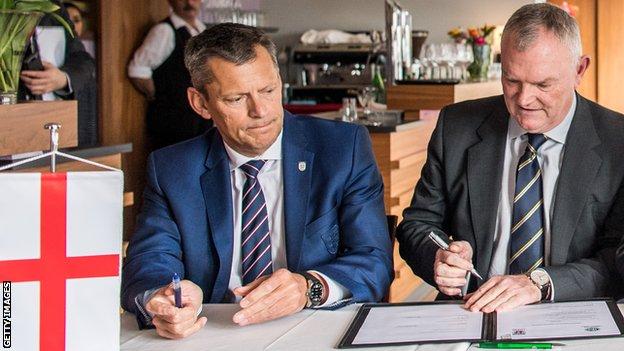 Football Association chiefs say they are "committed" to narrowing their gender pay gap and are working on plans to address the disparity.
It has published figures which show the average hourly pay for a man at the organisation was 23.2% higher than that for a woman - meaning that for every £100 earned by men, women earned £76.80.
All UK companies with 250 or more employees are required by law to reveal their gender pay gap - the difference between the average hourly wages of men and women they employ - by the start of April. And sporting organisations are no different.
As well as the country's largest sports governing body the FA, which published its data on Thursday, the Lawn Tennis Association (LTA) and Jockey Club Racecourses (JCR) are other sporting bodies to have released their data so far.
What the numbers mean
The mean, or average, is the sum of the salaries of all employees at a company divided by the total number of employees. The mean pay gap is the difference between this figure for males and females.
The median is the figure in the middle when all wages are ordered from lowest to highest. The median pay gap is the difference between the middle male wage and middle female wage.
Public sector organisations have to publish a snapshot of their employee pay as of 31 March 2017, with the date set at 5 April 2017 for private businesses.
At the FA, the governing body for football in England, the average hourly pay for a man was 23.2% higher than a woman. However, this disparity drops to 12.1% when comparing the middle wage of male and female FA employees, which is lower than the national overall figure of 18.4% for all part-time and full-time employees.
The FA figures include senior England women's internationals, who are on central contracts, but not senior men, who are paid by their clubs.
Gender pay gap figures

Body

Mean pay gap

Median pay gap

FA

23.2%

12.1%

LTA

31%

18%

JCR

3%

-23%
Jockey Club Racecourses is the largest commercial horse racing group in the UK and is responsible for events including the Grand National, the Derby and the Cheltenham Festival. The British Horseracing Authority is the regulatory governing body for the sport.
JCR also published its data on Thursday and it showed the organisation has the smallest mean pay gap of the three sporting bodies to publish their data, at 3%, while the middle female wage is 23% higher than the male equivalent.
This is due to many women employed in higher-paid roles in marketing and human resources at JCR, while more men are employed in more manual jobs.
British tennis body the LTA has the highest mean and median gender pay gaps of all sporting bodies so far, but several major governing bodies are yet to publish their data.
In each case, men are paid more on average than women due to more male than female staff in the most senior management positions - and therefore better remunerated positions - of each organisation.
What did they say?
The FA said it "cannot eliminate the pay gap completely" while their most high-profile coaches are men, which has a "significant impact" on its gender pay position.
It added: "Great work is going on across the country to increase female participation at all levels in the game, and over time this will build a better pipeline of talented women to work in managing and governing the game as well as playing it."
Jockey Club Racecourses chief executive Paul Fisher said the company is "confident there is pay parity between females and males for equivalent roles" and will "keep working hard to ensure we treat all people equally, regardless of gender or background".
The LTA said it pays both sexes equally but is "not satisfied" with its gender pay gap and it has "work to do in closing this gap".
"Our lack of diversity and gender imbalance, particularly at senior levels of our organisation, is something we want to address."
What else have they disclosed?
Organisations are also required to release information about the bonuses paid to men and women and the proportion of males and females at each of four pay levels.
The FA employed the highest proportion of men at the highest salary "quartile" - 75.8% compared to 66% at the LTA and 55.3% at JCR.
The FA paid 55.1% of male staff a bonus compared to 50.1% of women, with men earning on average 16.4% more in bonuses
A higher proportion of female employees at JCR (70.9%) were paid bonuses than men (63.5%), but men earned 13.1% more in bonuses on average due to more male staff at the most senior pay level.
However, the median bonus gender pay is 182% higher for women than men at JCR, partly explained by the higher proportion of women (57.3%) than men (42.7%) at the second highest pay level together with more men at the lower pay levels.
The LTA paid 87% of its male staff a bonus, against 74% of women, while men earned on average 55% more in bonuses.
It partly attributed the gender bonus gap to the bonuses paid out after Great Britain's men won the Davis Cup in 2015.
What next?
The FA said it is "committed to reducing [its] gender pay gap further" and plan to set and publish black and minority ethnic (BAME) and gender targets this year together with initiatives to meet those targets.
"The number of men applying for jobs at the FA is significantly higher than the number of women and so we are working hard to improve the pipeline in the early stages of recruitment to increase the possibility of hiring a more balanced workforce," said FA chairman Greg Clarke.
LTA said it will tackle this issue by making sure "inclusion and diversity is at the heart of everything" it does, trying to attract and develop "the best female talent" and develop its leaders to provide the "right opportunities".
JCR said it will continue to "vigorously scrutinise annual salary and performance bonus reviews" and are "committed to addressing any gaps."
What about those yet to disclose?
The England and Wales Cricket Board (ECB), Rugby Football Union (RFU) and British Cycling are among the national governing bodies with more than 250 employees that are yet to disclose their gender pay gap data.
Smaller governing bodies, such as UK Athletics, that have fewer than 250 employees are not required to publish their gender pay gaps.
Public sector organisations have until 30 March to publish, while businesses and charities have until 4 April.
Any organisation missing this deadline will at first be contacted informally by the Equality and Human Rights Commission (EHRC), the body responsible for enforcing gender pay gap reporting.
The EHRC say any organisation failing to comply could then face "unlimited fines and convictions."
Pay gap v equal pay
The gender pay gap and equal pay are two different things.
The gender pay gap is the difference in average earnings between men and woman.
Equal pay is paying men and women the same amount to do the same job and has been a legal requirement since 1970. The gender pay gap figures do not necessarily show whether women are being paid less than men in the same roles.
If an organisation has more men in senior positions on higher salaries, that can explain why there is a gap between the average salary earned by males and females at the business, even if men and women in the same job are always paid the same.
Across all employees in the UK, men are paid 18.4% more than women and 9.1% more for full-time staff, based on median gross hourly earnings in April 2017, according to the Office for National Statistics (ONS).