Doping test sample bottles: Ukad tells athletes not to refuse tests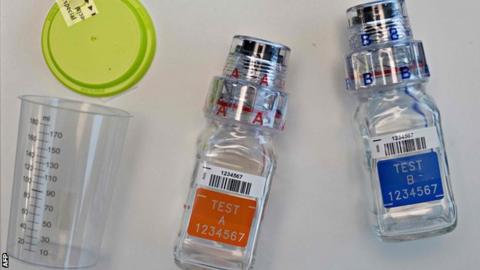 Athletes have been told by UK Anti-Doping (Ukad) not to refuse to take a drugs test if they are given discontinued sample bottles.
The World Anti-Doping Agency (Wada) said on Friday that Swiss firm Berlinger had quit the doping control business amid concerns about its products.
In January, Wada found Berlinger's new bottles - which were introduced in September - are susceptible to manual opening without evidence of tampering, whether they have been frozen or not.
"Ukad remains confident in the robust integrity of our sample collection process," said director of operations Pat Myhill.
"Our advice to athletes is, if there are any concerns regarding the testing bottles available, please take the test and note any concerns on the doping control form."
The issue of bottle security was raised after the McLaren report found samples from the Sochi 2014 Winter Olympics had been tampered with as part of Russia's state-sponsored doping programme
Whistleblower Grigory Rodchenkov provided evidence leading to the discovery of marks on the bottles from where tools had been used to prise them open and replace the samples with clean urine.
Berlinger introduced a new model last year, but German broadcaster ARD showed in January that the bottle could also be opened when frozen.
Wada told the International Olympic Committee to use the 2016 model brought in for the Rio Olympics to be used at the recent Winter Olympics in Pyeongchang.
Myhill added Ukad continues to use an older version of sample bottles "of which there have been no reported issues with bottle integrity".
He said: "In addition, Ukad is exploring alternative options for sample collection bottles, and has recently co-ordinated a meeting with an alternative supplier."