Linda Helleland: The woman seeking to clean up the world of anti-doping

Exclusive by Dan Roan
BBC sports editor
Last updated on .From the section Sport
Norwegian politician Linda Helleland has revealed she wants to become the next president of the World Anti-Doping Agency (Wada).
The 40 year-old told the BBC she was declaring her candidacy to succeed Britain's Sir Craig Reedie because "there is a need for change".
Helleland, who was elected Wada's vice-president in 2016, said the Russian doping scandal had left the fight for clean sport "at a crossroads".
"I'm very concerned about the confidence and the trust in the anti-doping movement" she said.
The background
The presidency - one of the most important roles in international sport - rotates between representatives of governments and the sports federations in the Olympic movement, which co-fund the organisation tasked with leading the fight against the use of performance-enhancing drugs.
Scotsman Reedie - a nominee of the sports bodies - was reappointed unopposed for a second and final three-year term in 2016, and will stand down next year.
For months there has been speculation that Helleland, Norway's Minister for Children and Equality, could seek to replace him.
But for the first time she has now confirmed she will be a candidate, marking the start of what could be a fierce contest at a crucial time for the anti-doping movement.
"I would like to be the next president of Wada," said Helleland.
"Wada needs more independence, more transparency and more democracy. But also it needs a more equal partnership and right now the perception is that the Olympic movement is the strongest partner. We need to strengthen the role of the governments, and I want to do that.
"I think it is very important to contribute my experience as a minister with good governance in all our processes, so we have more diversity and gender equality.
"The most important thing for me is that we have a good president committed to making Wada stronger and more independent.
"I have two sons who love football and sports - it is their entire life and I want them to grow up and believe sport is clean, so they have role models that are clean. That is my motivation. I want the public and athletes to know I have done everything I can do to make sport clean.
"There is a lot more to be done. We need to increase and enhance the fight against doping - we need Wada to be the body that scrutinises sports.
"I want to put my effort and energy into what I can change."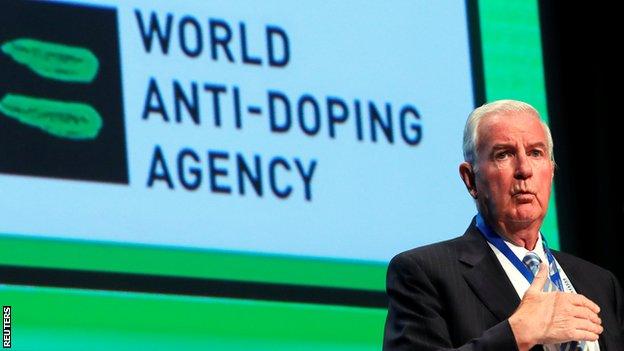 A first female president?
However the outspoken Helleland faces a fight in her bid to become Wada's first female president. She is seen as an outsider, and the International Olympic Committee (IOC) and sports federations are expected to want an alternative candidate to seek the nomination of the governments.
Speaking to BBC Sport at her ministry office in Oslo, Helleland - the first contender to publicly declare her candidacy - said she had been "surprised" by some of the attitudes she had encountered since taking up her role as vice-president two years ago.
"Speaking as a young woman, there are methods I thought were last used in Norway 20 or 30 years ago that are alive in the international sports movement," she said. "And it's very far from my values of respect and tolerance.
"Someone has to speak up and someone has to believe in change. I come from a country where gender equality, transparency and democratic processes are of the highest importance, and I want the sports movement to be more like that."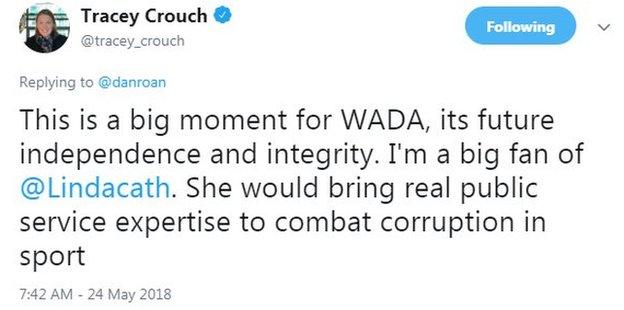 A controversial figure
Helleland has recently returned from a meeting of Wada's Foundation Board in Montreal, where she sparked controversy by formally proposing an independent review of the Russian state-sponsored doping crisis.
The scandal, which implicated dozens of sports in evidence of sample-tampering between 2012 and 2015, caused unprecedented divisions within the Olympic movement, and was laid bare in a shock report by Wada investigator Professor Richard McLaren.
Having defied Wada's recommendation to ban Russia from the 2016 Rio Olympics, the IOC eventually suspended the country from Pyeongchang 2018 Winter Games after its own 18-month investigation. But the Court of Arbitration for Sport's decision on the eve of the event to uphold the appeals of 28 Russians accused of doping caused outrage among athletes and national anti-doping agencies.
"There have been some confusing years in the anti-doping movement and I'm afraid a lack of trust and confidence from fans and athletes is now a big problem," said Helleland.
"That is why we need a review because we need to be fit for the future, we need to learn what to do if this happens again, and need to have a community that can respond quickly and can be trusted. That is why we need to self-examine."
Helleland's proposal was rejected by Wada's executive committee, but she has vowed to try again at the body's next meeting.
A Russian return?
The rehabilitation of Russia is starting to cause divisions within Wada. At the weekend, the body's compliance review committee (CRC) decided to continue its suspension of the country's anti-doping agency (Rusada) until it has met two outstanding criteria for reinstatement: an admission of the McLaren report and access to its Moscow laboratory.
A letter sent by Russian authorities to Wada's board had raised expectations that the first of those two criteria had been met, but the country is still deemed non-compliant.
Wada's hardline approach mirrors that of the International Association of Athletics Federations (IAAF) which recently warned the Russian Athletics Federation that it could be expelled completely if allegations that banned coaches are continuing to work with athletes are not addressed.
However, the IOC reinstated the Russian Olympic Committee immediately after the Pyeongchang Games in a bid to draw a line under the scandal, and some Wada members with strong links to the IOC believe the time has now come for the CRC to follow suit and welcome Rusada back into the fold.
Helleland disagrees. "We need to stick with our rules and regulations, and 'the roadmap' to compliance, even if some are intending to undermine its legitimacy," she said. "It's more important than ever that we are strong and stand by our principles.
"My perception is that some of our stakeholders feel that this is very difficult, but it's even more important in difficult times to stand up for your rules."
With the 2018 World Cup set to get under way in Russia next month, football's world governing body Fifa has confirmed that an investigation into the country's top players found "insufficient evidence" of any anti-doping rule violations, with Wada backing the decision to close the case.
However, Helleland says she recently met Fifa president Gianni Infantino to seek reassurances.
"He promised they will do everything they can to monitor, test and implement all their anti-doping programmes at the World Cup, and I just have to trust that."