Asian Games 2018: 'Persistent' Indonesian billionaire wins bridge bronze aged 78
Last updated on .From the section Sport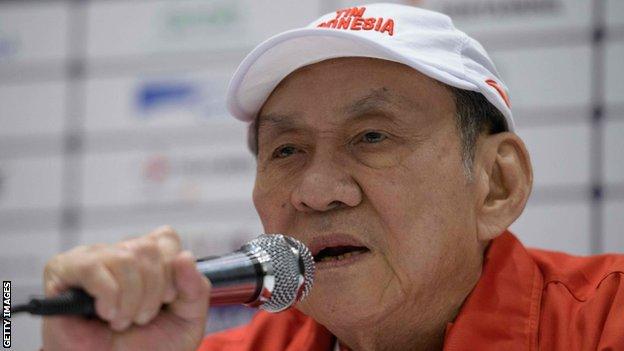 The Indonesian billionaire whose "persistence" helped convince Asian Games organisers to include bridge has won bronze in the competition.
Michael Bambang Hartono, one of the Games' oldest competitors at 78, is worth an estimated $11.7bn, making him the world's 75th wealthiest person.
He and five team-mates finished joint third with Chinese Taipei in the supermixed team event in Indonesia.
"If you want to be a good leader and a successful man, play bridge," he said.
"Bridge is like business. First you get the data, the information. You analyse the information, and then you make a decision. So business, real life and bridge are the same."
Hartono is also president of the South East Asia Bridge Federation. The World Bridge Federation paid tribute to his "remarkable job and persistent efforts" after Asian Games organisers announced bridge would be added to the 2018 schedule.
The World Bridge Federation also presented him with a special gold medal award in 2017 for his efforts in helping convince the General Assembly of the Olympic Council of Asia.
Hartono's fellow bridge player Kong Te Yang of the Philippines, aged 85, is the oldest competitor at this year's Asian Games.
China won gold in the supermixed team event, with Hong Kong taking silver.
How do you play bridge?
In bridge, or contract bridge, all the cards are dealt from a standard 52-card deck.
Two players from each of two teams sit opposite each other across a table and through a bidding process (auction) agree to win a number of tricks.
Suits are ranked upwards - clubs, diamonds, hearts, spades and no trumps.
If they achieve the number of tricks agreed at auction they win the game but if not, they lose.
The team with the highest number of games wins.
These are the basic rules. At higher levels, the game includes bonus points, complex dealing and other rules.