Russia doping ban: Wada suggested compromise to bring end to Rusada ban

Exclusive by Dan Roan
BBC sports editor
Last updated on .From the section Sport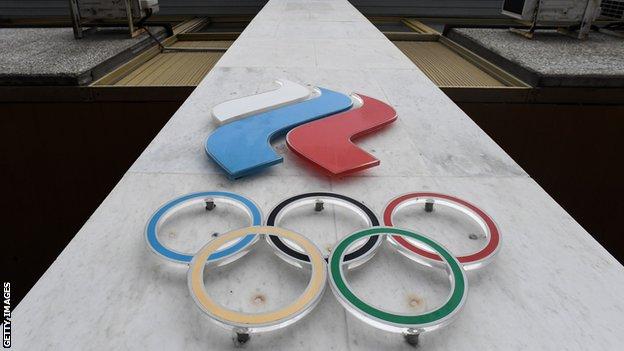 The World Anti-Doping Agency suggested a compromise to Russia that would allow a suspension of its anti-doping agency (Rusada) to be lifted, the BBC can reveal.
In June, Wada president Sir Craig Reedie and director general Olivier Niggli wrote a letter to Russia's sports minister.
In the correspondence - obtained by the BBC - Pavel Kolobkov is told "this is the most opportune time to deal with the two unresolved conditions" for re-compliance.
It appears to have been the first step in a negotiation process that has now led to Wada's compliance review committee (CRC) recommending the reinstatement of Rusada, which has been suspended since 2015 over alleged state-backed doping.
On Saturday, one of the six-person CRC resigned. Beckie Scott, chair of Wada's athletes' commission, is thought to have left her role on the committee in protest over the recommendation to reinstate Rusada.
Wada said the committee had reviewed a letter from the Russian sports ministry it said had "sufficiently acknowledged the issues identified in Russia".
Wada had insisted Russia meet two criteria before Rusada could be re-admitted; accept the findings of the McLaren Report into state-sponsored doping, and grant access to Moscow's anti-doping laboratory.
'Compromise'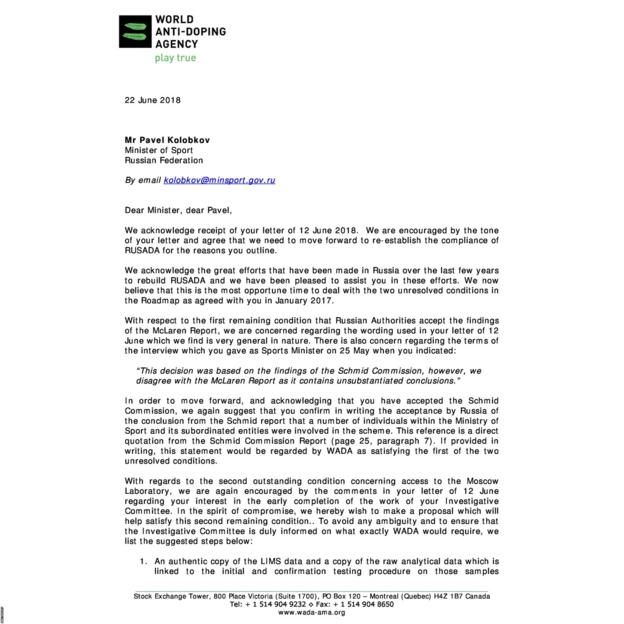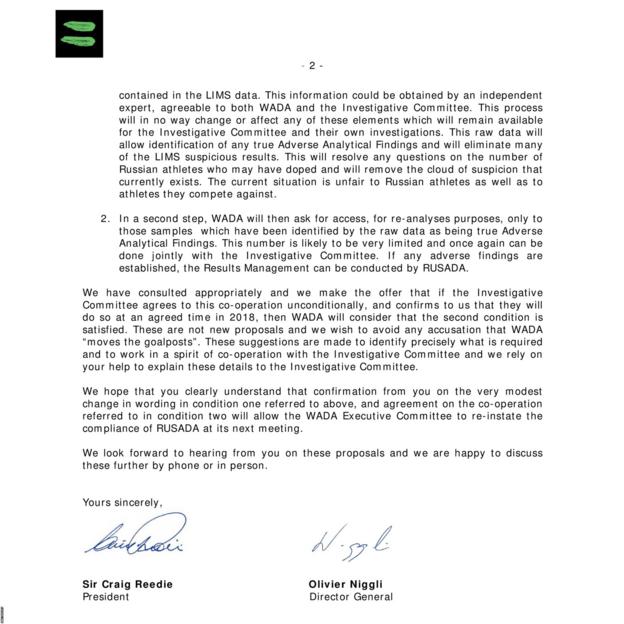 The letter - dated 22 June - suggests a "very modest change in wording" that would satisfy the first condition. On the second, Reedie and Niggli write that "in the spirit of compromise, we wish to make a proposal".
They ask Kolobkov for a copy of "raw analytical data" which would "allow identification of any true adverse analytical findings". They also request access "only to those samples which have been identified by the raw data as being true adverse analytical findings. This number is likely to be very limited…"
Kolobkov is told "these are not new proposals and we wish to avoid any accusation that Wada 'moves the goalposts'".
In a written response dated 13 September - and also obtained by the BBC - the Russian sports minister tells Reedie: "I agree to accept the two remaining conditions… that were referred to in your letter of June 22."
He continues "we have accepted your offer… I hope that Wada will perform its undertaking and re-instate the compliance of Rusada at the next meeting of the Executive Committee…"
The following day, Wada confirmed the CRC had recommended Rusada's suspension be lifted.
On Saturday, Wada released a statement to "address speculation" and said it had been working with Russia on a "roadmap" to compliance.
It did not mention Scott's resignation but said: "Wada has been leading the drive to ensure that Russia meets the roadmap in full. The fact is that leadership requires flexibility. The proposals made in the leaked letter are grounded in pragmatism and are nuanced interpretations of the roadmap in order to bring matters to a conclusion and to not allow the significant progress that the Rusada has made over the last two years, under Wada's supervision, to be undone."
Wada also released six letters sent between the organisation and the Russian sports ministry.
'Stinks to high heaven'
Earlier this week, a group of UK athletes - the UK Anti-Doping Athlete Commission - demanded the ban remains until the anti-doping agency overhauls its systems.
But Wada said the CRC "accepted that the new commitment to provide access to the data and samples in the Moscow laboratory to Wada via an independent expert would be sufficient to justify reinstatement".
Travis Tygart, head of the US Anti-Doping Agency (Usada), said the move "stinks to high heaven".
Wada will vote on whether to reinstate Rusada at a meeting in the Seychelles on 20 September.
When contacted by the BBC, Reedie defended the compromise saying: "I think it's entirely within the roadmap that was specified. It was the CRC's idea to write to Russia and suggest this.
"It's my convinced view that the best thing Wada can do is to have an efficient and well-operated anti-doping system in Russia and we've been trying to do that for two years. This moves things forward.
"If the CRC's recommendation is approved they will be declared compliant, but the second condition still requires a copy of the database and raw data to come to us. We will appoint an expert and put a time limit on that - if they don't deliver they won't be compliant.
"To sit back and do nothing doesn't serve the world of sport so I think progress has been made. To the members of the Ukad, athletes' commission, I am grateful to them for their advice and can be reassured that I take their advice and I operate within the roadmap.
"As far as Travis Tygart is concerned, all his criticism always ignores the process that everyone within Wada has agreed to."
Victoria Aggar, chair of the British Athletes' Commission, posted on social media: "Russia has not met roadmap - there's been no public acceptance apology and no Wada officials have yet had access to Moscow lab. Far from criticism, Travis Tygart speaks for overwhelming majority of clean athletes & sports fans worldwide that this does indeed "stink to high heaven"."
'Shocked and outraged'
Tygart, the chief executive of Usada, said Wada should release any information received from Russia showing they are compliant.
"To date, no Wada officials have been given access to the Moscow Laboratory to access athletes' samples, and there has been no public acceptance of the McLaren Report," he said.
"It is no wonder clean athletes are shocked and outraged at Wada's sudden about-turn curiously just days before its crunch meeting, and one day after clean athletes came out in force across the world to implore Wada to respect their rights."
On Thursday it was reported that Wada were expected to recommended that Rusada remain suspended.
Russia's readmission would be "a catastrophe for clean sport", the UK Anti-Doping Athlete Commission said.
It warns that "athletes will no longer have faith in the system" if Russia is allowed back.
Rusada has been suspended since 2015 after it was accused of covering up drug abuse - including while the country hosted the 2014 Sochi Winter Olympics - in a report by lawyer Richard McLaren.
The UK Anti-Doping Athlete Commission says Russia is yet to comply with all the conditions of Wada's roadmap to compliance.
"To ignore these conditions, ignores the wishes of the athletes you are there to protect," it added in an open letter to Wada president Reedie.
Russian anti-doping director Yuri Ganus said earlier this month that he was pessimistic about his country's chances of being reinstated.