Russia doping ban being lifted 'undermines faith in Wada' - Paula Radcliffe
Last updated on .From the section Sport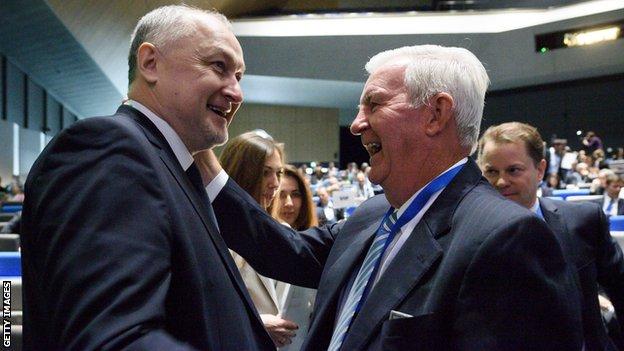 The reinstatement of Russia's anti-doping agency undermines the faith clean athletes have in the World Anti-Doping Agency, says marathon world record holder Paula Radcliffe.
Briton Radcliffe is one of several leading current and former athletes to criticise Thursday's decision.
"This goes against everything Wada is supposed to stand for," she said.
"It undermines their credibility and the faith clean athletes have in them."
'To bank on the Russians is naive'
The Russian anti-doping agency (Rusada) had been suspended since 2015 over alleged state-backed doping after it was accused of covering up drug abuse - including while the country hosted the 2014 Sochi Winter Olympics - in a Wada-commissioned report.
Russia was ordered to meet set criteria before Rusada could be readmitted, which included accepting the findings of the McLaren report into state-sponsored doping and granting access to Moscow's anti-doping laboratory.
Last week, Wada's compliance review committee recommended reinstatement after it received assurances from the Russian sports ministry that the country had "sufficiently acknowledged" failures.
Wada president Sir Craig Reedie said the reinstatement, agreed by its executive committee at a meeting in the Seychelles, was "subject to strict conditions", including giving access to data and samples from the Moscow laboratory.
However, Radcliffe said she felt Russia has "never accepted the harm they did to clean sport globally" and that the initial criteria set out by Wada "shouldn't have been up for negotiation".
Speaking to BBC Radio 5 live, she added: "You can't move the goalposts now without destroying the credibility of Wada."
IPC and IAAF taskforces remain in place
Russia is suspended from International Paralympic Committee (IPC) events and also from athletics, although some have been allowed to compete as neutrals in international competition after proving their anti-doping credentials.
Both the IPC and athletics' governing body, the IAAF, have already established their own taskforces to investigate Russia's compliance.
IPC president Andrew Parsons said his organisation will assess the Russian Paralympic Committee's suspension in light of Wada's decision on Rusada.
The IAAF taskforce will report back to a council meeting in December.
IAAF president Lord Coe said: "IAAF has its own set of criteria for the reinstatement of the Russian Athletics Federation. We will continue to rely on the taskforce and our clear roadmap for their reinstatement until we are satisfied that the conditions have been met."
On Wednesday, the BBC revealed details of a compromise proposed by Wada director general Olivier Niggli to Russia's Sports Minister Pavel Kolobkov on how to improve the country's chances of readmission to international sport.
British Olympic track cycling champion Callum Skinner said lifting the ban was "incredibly disappointing" because Wada should be "there to protect clean sport, not there to protect the people they have sanctioned".
"This is a step backwards in the fight towards making sport cleaner," he said.
As part of the post-reinstatement conditions, Wada has demanded access to the former Moscow laboratory data and samples by the end of 2018.
Skinner said it was "quite troubling" for Wada to rely on Rusada providing this access when it had not previously under the original conditions of reinstatement.
"To now bank on the Russians to hold up their end of the deal is naive," he said.
What have other British athletes said?
Goldie Sayers is finally set to receive 2008 Olympic javelin bronze after Russia's Mariya Abakumova, who initially won silver, was stripped of her medal and failed in her appeal against a doping ban.
Sayers, who retired last year, told BBC Radio 4 Rusada's reinstatement was a "devastating blow for clean athletes" and that Wada had rushed into the decision.
"Leaders in sports governance forget who they are there to serve. We need governance that is there for the athletes because you do feel very powerless at times," she said.
"There is a credibility issue in sport and Wada have not helped themselves in that at all. You have to accept that you have a problem before you can change and changing a culture takes years and years, not three years."


Race walker Tom Bosworth called on Reedie to resign and accused the Wada president of having "let all clean, hard-working athletes down".
Olympic breaststroke gold medallist Adam Peaty said Wada's decision was an example of "how to lose the respect of all clean athletes real quick".
Paralympic powerlifting silver medallist Ali Jawad said: "I'm sorry for every clean athlete around the world let down by Wada. We will keep fighting for our rights to compete clean. I promise we will win the fight one day. We may have lost the battle today but we will win the war."
Commonwealth 5,000m bronze medallist Laura Weightman said: "Wada should be protecting all the hard-working, clean athletes out there, but they have let us all down."
'A slap in the face' - reaction from anti-doping heads
US Anti-Doping Agency (Usada) head Travis Tygart said the decision was a "catastrophic outcome" for clean athletes and sports fans.
"We all want every nation in the Olympics, particularly those that are competitive and powerful and influential like Russia - but not at the expense of the Olympic values," he told BBC Sport.
"We trusted them, they cheated like never before.
"This is a slap in the face for those who put clean sport and fair play above sport politics and the influence that money and large countries have within the sport promotion arena."
UK Anti-Doping (Ukad) chief executive Nicole Sapstead said she was "incredibly saddened" by Wada's move.
"Ukad had hoped the decision to reinstate Russia would be postponed, at least for a few months so that some due consideration could be given to the compromise that seems to have been put on the table," she told the BBC.
"It's important an entity like Wada exists - it is there to uphold a set of rules that apply to every country and every athlete. But that sort of organisation has to be beyond reproach, it has to uphold the stands and it has to be held to account when it hasn't.
"Wada needs to move forward in a constructive way, it needs to repair the damage it has done to the athlete community and to the wider anti-doping community, and it needs to restore the trust we have in it."
There was also objection within Wada, with two of the 12-strong executive committee voting against Rusada's reinstatement - New Zealand's Clayton Cosgrove and Wada vice-president Linda Helleland.
Norwegian politician Helleland, who hopes to replace Briton Reedie as Wada president next year, said the organisation had "failed the clean athletes of the world".
"This casts a dark shadow over the credibility of the anti-doping movement - it was wrong to welcome Rusada back until they had fully and transparently met the roadmap."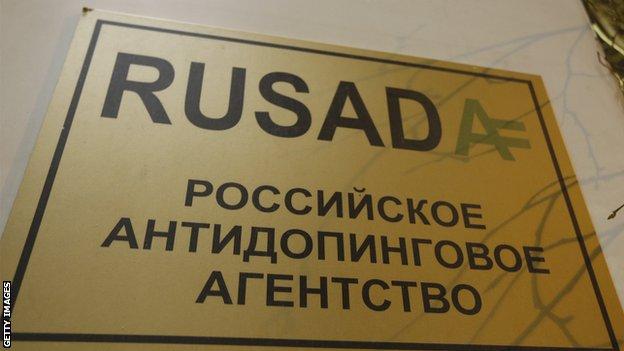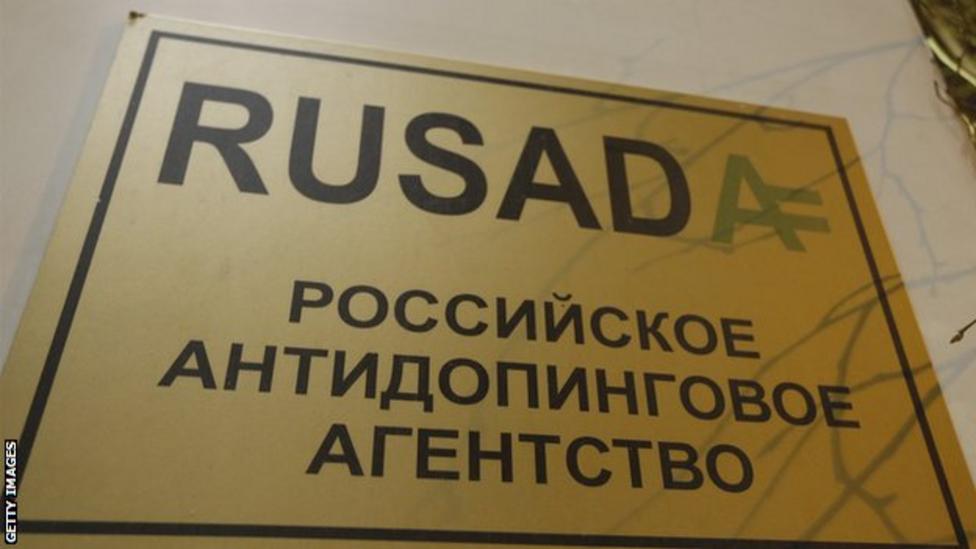 The reaction from Russia
Russia has repeatedly denied running a state-sponsored doping programme and continued to deny full access to and retained control of its Moscow laboratory.
Speaking to BBC Radio 4's Today programme, the Rusada deputy director-general Margarita Pakhnotskaya said "deeds not words" should be used to assess progress.
"I can confirm that our new anti-doping agency was reformed and changed since 2016," she said.
"We have an absolutely new team that were recruited with the help of international experts appointed by Wada to work in every department of Rusada."
Russian MP and 2006 Olympic speed skating champion Svetlana Zhurova echoed Pakhnotskaya's comments, saying "much has been done" to reform Rusada to "get to this stage".
"We changed our legislation, we've travelled a long journey to correct mistakes and act on Wada's comments," she told the BBC.
"Russia has recognised and corrected nearly all the points in the McLaren report. Some of the points in that report even the Court of Arbitration of Sport didn't recognise and some Russian sportsmen had their medals returned."
She added that "Russia has been punished enough" and the "complaints don't exist today".
"If we keep looking back, at when Russia didn't do this, we won't make any progress," she said.
"Of course, if someone in the West doesn't want our athletes and Paralympians to compete, you will still hear voices saying: 'Do not reinstate Rusada.'
"If you don't want to see Russia as a rival in track and field and Paralympics, then I understand this - but this is more politics than common sense."