World Anti-Doping Agency needs 'far-reaching reform', says powerlifter Ali Jawad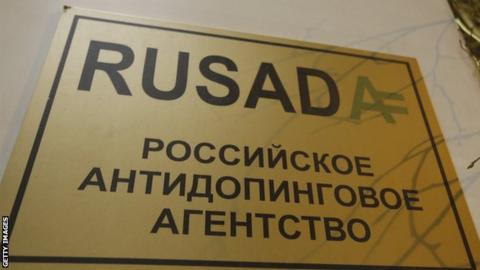 "Far-reaching reform" of the World Anti-Doping Agency has been proposed "on behalf of global athletes" by British Paralympic medallist Ali Jawad.
It comes after Wada reinstated Russia's anti-doping agency following a three-year ban imposed for alleged state-sponsored doping.
"I am unveiling logical and pragmatic solutions to a very real and current problem," said powerlifter Jawad.
He is a member of UK Anti-Doping's Athlete Commission.
Rio 2016 silver medallist Jawad said his proposals followed ideas and suggestions from other athletes.
Apart from structural changes, Jawad wants future presidents to be selected as "independents".
His proposed reorganisation includes an overhauled 15-person executive committee, consisting of 12 members entirely independent from government or sport, and three athlete members.
The calls for changes to Wada have been made in a published paper called, 'The Alternative: Reforming Wada's governance for a new anti-doping age'.
"I hope that 'The Alternative' will create the necessary open and transparent debate that can lead to the change that Wada and sport so desperately needs," added Jawad.
Wada president Sir Craig Reedie said Russia's reinstatement was "subject to strict conditions" and that the anti-doping authority must be given access to former Moscow laboratory data and samples.
However, a lawyer for Russian whistleblower and former Moscow laboratory head Grigory Rodchenkov - whose evidence was key to Russia's suspension - called it "the greatest treachery against clean athletes in Olympic history".
Leading athletes and anti-doping bodies, including the US and UK anti-doping bodies, had also opposed the move, although the athletes' commission of the International Olympic Committee (IOC) said it "agreed in principle" with the recommendation to end the suspension.
"At a time when trust in the decision-making process for anti-doping, and sport more broadly, is perilously low, we should be doing everything in our power to restore trust, not erode it further," said Jawad.
How the scandal unfolded
December 2014: As many as 99% of Russian athletes are guilty of doping, a German TV documentary alleges.
November 2015: A Wada commission publishes an independent report alleging widespread corruption, amounting to state-sponsored doping in Russian track and field athletics. Rusada is declared non-compliant.
May 2016: Former Moscow anti-doping laboratory boss Grigory Rodchenkov, who has turned whistleblower, says dozens of Russian athletes at the 2014 Winter Olympics in Sochi had cheated.
July 2016: Russia operated a state-sponsored doping programme for four years across the "vast majority" of summer and winter Olympic sports, says a report from Professor Richard McLaren.
August 2016: International Olympic Committee (IOC) decides against imposing a blanket ban on Russian athletes at the 2016 Olympics in Rio. Individual sporting federations rule instead, with 271 Russians competing.
December 2016: Wada publishes the second part of the McLaren report which says more than 1,000 Russian athletes benefited from doping.
March 2017: Wada says Russia's anti-doping reforms are not happening quickly enough.
August 2017: Rusada and Russian sport authorities given list of criteria to achieve before winning back recognition.
December 2017: Russia are banned from competing at 2018 Winter Olympics in South Korea by the IOC, but 169 athletes who prove they are clean allowed to compete under a neutral flag.
May 2018: Wada writes to Rusada offering 'compromise' solution, which is later revealed by the BBC.
September 2018: Suspension of Rusada is lifted, prompting fury among athletes and many anti-doping bodies.