Wada: Anti-doping campaigner Beckie Scott says officials tried 'to bully' her

Exclusive by Dan Roan
BBC sports editor
Last updated on .From the section Sport
The chair of the World Anti-Doping Agency's (Wada) Athlete Committee says some of the organisation's most senior officials tried to "bully" her over her opposition to Russian reinstatement.
Beckie Scott told the BBC she was "treated with disrespect" at a recent meeting and faced "inappropriate" comments and gestures from some members of Wada's executive committee.
The Canadian former Olympic cross-country skiing champion resigned from a Wada panel last month in protest at its highly controversial recommendation to end the suspension of Russia from international competition after a state-sponsored doping scandal.
In her first interview since stepping down, Scott said the treatment she faced was "indicative of a general attitude of dismissal and belittling of the athlete voice".
In a statement, Wada admitted "tensions were running high" at last month's meeting, and that the strong views on both sides of the debate "do affect the tone and atmosphere" but "the athletes' voice was clearly heard".
It said Scott's concerns "were being taken seriously".
Background
In September the BBC revealed Wada's leadership had secretly softened two key criteria to help bring Russia back into compliance after a three-year suspension.
Once Russia agreed to comply, Wada's compliance review committee (CRC) recommended reinstatement, prompting an outcry from many athletes and national anti-doping agencies.
Scott, who is a former International Olympic Committee (IOC) member and one of the most high-profile athletes in the anti-doping movement, says she resigned because she "fundamentally disagreed" with her colleagues on the CRC.
"I felt it was a compromise," she said.
"I don't think it was acceptable to clean athletes, especially in light of the affront to clean sport that had taken place.
"It was an altering of a 'roadmap' that was established by Wada in order to regain compliance. And it was basically a reversal of the conditions, so compliance was established before conditions had been met.
"I think from an athletes' perspective that is such an affront because no-one is altering rules and regulations to ensure athletes reach their goals or achieve their results."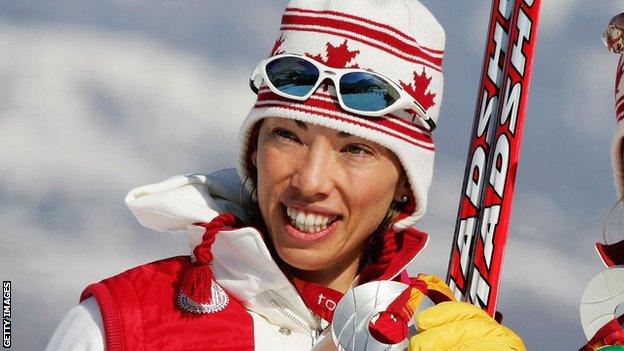 They tried 'to bully'
Wada's all-important 12-person executive committee then held a meeting in the Seychelles to formally approve Russia's reinstatement.
It was there, Scott claims, as she made a presentation, that she faced "upsetting" comments by some of the members representing the Olympic movement "definitely designed to denigrate, to belittle... and to bully".
"I felt an intense amount of pressure going into that meeting. There was laughter when I read out the list of athlete committees who were confronting the decision [over Russia]," she said.
"At the time it was upsetting, and on reflection it's a tactic, a manoeuvre and born out of a long-standing belief that athletes don't have to be part of this conversation."
Scott says she was "disappointed" neither Wada's president Sir Craig Reedie or director-general Olivier Niggli stepped in at the time.
"There was no confrontation or challenging of that behaviour at the time it took place," she said.
"I think it's indicative of the leadership of Wada's alignment with the Olympic movement."
Wada's response
Wada said Scott had shared her concerns in writing with its leadership and they were being taken seriously, with Reedie already responding to her.
However, it denied Scott's suggestion its leadership had become aligned with the Olympic movement as "completely and demonstrably untrue".
"The leadership of Wada are independent and have shown time and time again that they make decisions exclusively in the best interests of the organisation and fight against doping," it said. "In fact, this independence has led to criticism of Wada leadership by the very bodies with whom Miss Scott claims they are aligned."
Russia has made a qualified admission that its government was involved in an intricate and extensive doping conspiracy. It has also agreed to turn over data and doping samples that could help corroborate positive tests, with Wada insisting Russia will be made non-compliant again if it fails to meet "strict conditions".
Scott accepts she did initially consider a means of breaking the deadlock that had developed with Russia over the terms for reinstatement, but became opposed once she understood the ramifications. The athletes' commission of the IOC said it "agreed in principle" with the ending of the suspension, and Wada has pointed out it was backed by a majority of government representatives.
Reedie said some athletes did not fully understand Wada's intentions, a suggestion Scott described as "quite offensive".
"Would we be having this conversation if it was a nation with far smaller resources or far smaller teams participating in Olympic Games? We are talking about a superpower in sport and the influence and pressure that they are able to exert, even within Wada, has been remarkable."
Scott says the time had come for far-reaching reforms of Wada's governance, with athletes given a vote on the executive committee, as well as representatives of the Olympic movement and governments. She said she "100% supported" the proposals of British Paralympic medallist and Ukad athlete representative Ali Jawad, who has demanded an overhaul of Wada's governance structure.
"This is a real opportunity for change," Scott said.
"There has been an incredible loss of confidence and faith in the organisation. Athletes have been galvanised by this and expressed their frustration on a level I've never seen before.
"We have fallen under the pressure of politics, and we need a return to integrity based decision-making.
"If we go the way of sport just becoming a political arena then something is really lost and we're in danger of that right now."
United States Anti-Doping Agency CEO Travis Tygart said in a statement that Scott's claims "present a damning reflection of the fragile state of the WADA-led global anti-doping system as it exists today."
He said: "It's appalling Olympic sport leaders would attempt to suppress athletes' voices.
"Beckie Scott speaks for the huge majority - the silent majority - of athletes and fans when she says confidence in Wada has never been lower.
"There is now a perceptible and deafening noise from the global athlete community for change."
Analysis
Beckie Scott is the nearest thing the Olympic and Paralympic athlete community has to a figurehead.
A highly respected former IOC member, and the most senior athlete representative inside Wada, her explosive claims will be highly damaging for Wada's beleaguered leadership as it faces an unprecedented backlash from western athletes over its decision to reinstate Russia.
With some critics suggesting Wada lacks the independence from the Olympic movement to be fit for purpose, this will only add to the pressure that the regulator is now under. Especially a week after the US indicted seven Russian spies for hacking in connection with the alleged hacking of Wada officials.