Continental Cup: Five reasons to watch roller derby on the BBC
Last updated on .From the section Sport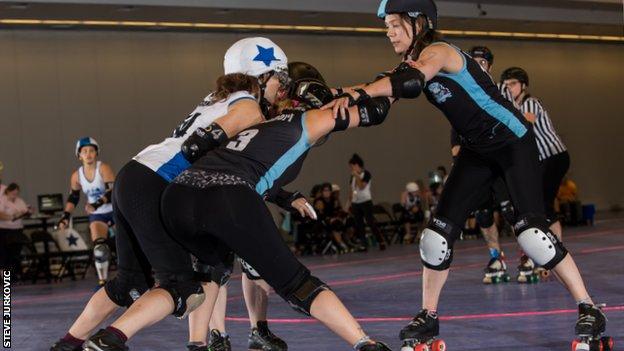 WFTDA European Continental Cup (Telford)

Sunday 28 October: 15:15-16:30 GMT

BBC Sport website and app, connected TV
BBC Sport is streaming the final two games of the European Continental Cup roller derby at Telford on Sunday.
There are eight teams taking part, four from England and one each from Ireland, Wales, Sweden and Finland.
Roller derby is seldom seen on British television but interest is rising in a sport that has its roots in the Depression-era USA.
Here are five reasons why roller derby is worth a look.
1. It's a fast-moving sport
Although roughly half the objective of roller derby is to impede your opponent's progress, the fact that it is played on wheels means it is still a pacy spectacle. The ability to skate at 12mph (19kph) is considered a minimum requirement at the top level, with 18mph (29kph) preferable.
2. It's a women's sport
There are plenty of men's teams and leagues in existence, of course, but roller derby is still mainly played by women worldwide. Skating is a great way to keep fit and the team bonding and physical nature of the sport make it a great stress reliever. Studies also indicate roller derby improves assertiveness.
3. It's a physical sport (very)
The speeds mentioned above mean collisions aplenty, and that is before the full-contact nature of the sport (setting up and avoiding blocks) comes into play.
4. The names are brilliant
Roller derby is in no way a non-contact sport (it describes itself as full-contact) and the "roller names" that players give themselves reflect this. Examples include Bunny Massacre and Viv La France for Central City, Shauna The Dead for hosts Birmingham Blitz, and Victoria Deck'Em, who lines up for Newcastle.
Tournaments, too, have appropriate names, like Cinco de Mayhem or Knoktoberfest and the referees join in on the alter ego front, with handles like Righteous Oxide and Killer Bite.
In Telford, the tournament data manager is called Yvel Saint Laurent and tournament head Laura Carr is herself a former roller girl, under the name Wishbone Breaker. Ironically, injury brought a halt to her playing days.
Continental Cup draw

Round 1:

Kallio (Fin) v Middlesbrough; Central City v Tiger Bay; Birmingham v Dock City (Swe); Newcastle v Dublin

Semi-finals:

Kallio/Middlesbrough v Central City/Tiger Bay; Birmingham/Dock City v Newcastle/Dublin
5. It's on the rise in the UK
The sport itself started in the USA in the 1930s, and is a comparative newcomer to these shores, with the first leagues starting in London and Birmingham in 2006.
In the past 12 years, 90 leagues have sprung up around the country and now UK clubs are looking to expand their experience abroad. Hence the Continental Cup.