Better concussion protocols needed in sport, say MPs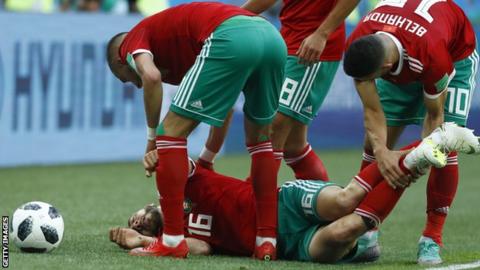 MPs have called on the government to introduce better concussion protocols in sport.
Tom Watson, Labour's deputy leader said "undoubtedly there will be fatalities" if the situation does not improve.
The Scottish government and Sport Scotland have already implemented a single concussion policy across a range of sports with common guidelines.
"We need a simple set of protocols applying to every sport at every level across the UK," MP Chris Bryant said.
The All-Party Parliamentary Committee on Acquired Brain Injury, chaired by Labour MP Bryant, published a report last month that said there was a "poor awareness" and "lack of knowledge" in managing sports concussions.
Several sports governing bodies have launched campaigns around concussion but there is no standardised concussion protocols across all sports at all levels in the UK, and there is concern the message is not filtering down sufficiently and has become diluted because of mixed advice.
A report from the New York Hospital for Special Surgery this month found concussion protocols in football were "ineffective" in almost two thirds of matches at the 2018 World Cup.
Morocco winger Nordin Amrabat suffered a concussion yet played another match five days later, despite Fifa guidelines suggesting a minimum rest period of six days.
The governing body does not have the authority to enforce the protocol - the final decision rests with team doctors.
Earlier in the year, it emerged after the Champions League final that Liverpool goalkeeper Loris Karius had played the full match despite sustaining a concussion.
Labour feels that the gap between some sports such as rugby union, which has taken significant steps forward regarding concussion, and others like football is far too large.
A government report last month found schools, colleges, universities and even healthcare professionals lack understanding of sports-related brain injuries.
"It's simply potluck how safe your sport is in the UK," Watson said.
"If you're lucky, you play a sport where they take concussion seriously and at a level that provides support, but for far too many people, their sport's governing body is turning a blind eye to the brain injury epidemic and its serious consequences - so we're urging the government to do something about it."
Bryant, MP for Rhondda, added: "Football in particular really has to take this far more seriously.
"There is lots of evidence at the last World Cup that they didn't abide by their own rules. It is still the team's own doctor who's deciding whether somebody should come of the field. It should be, like rugby, an independent person who's making the decision on medical evidence rather than the needs of the team."
A spokesperson for the Department for Digital, Culture, Media and Sport told the BBC: "Government takes the issue of player safety incredibly seriously. There are always risks associated with taking part in sport but it is vital that measures are in place to reduce them and that procedures protect players if injuries occur."