Gambling firms agree 'whistle-to-whistle' television sport advertising ban
By Richard Conway
BBC sports news correspondent
Last updated on .From the section Sport343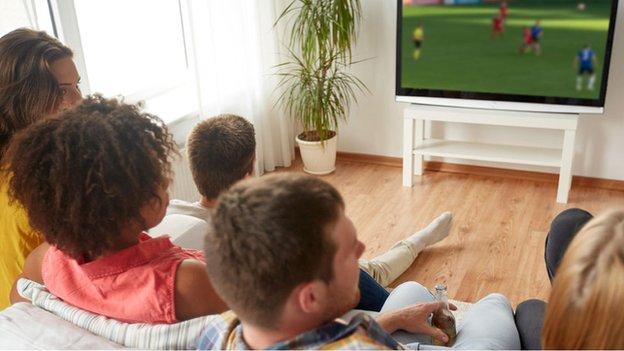 Britain's biggest gambling companies have voluntarily agreed to a "whistle-to-whistle" television advertising ban.
The Remote Gambling Association (RGA), which includes Bet365, Ladbrokes and Paddy Power, has struck a deal to stop adverts during live sports broadcasts.
It follows political pressure about the amount of betting advertising on TV.
More than 90 minutes of adverts were shown during the football World Cup and anti-gambling campaigners say sport's use of adverts "normalises" betting.
There are also fears it contributes to the rise in the amount of problem gamblers - with a Gambling Commission report suggesting 430,000 Britons can be described as such - and helps fuel under-age gambling.
The deal follows extensive talks between firms - also including SkyBet, Betfred, Betfair, Stan James, Gala Coral and William Hill - to ensure no adverts will be broadcast for a defined period before and after a game is broadcast.
The proposal is similar to those made by the Labour party and, importantly, will include any game that starts prior to the 9pm watershed but ends after that time.
The RGA has previously said it was "very mindful of public concerns".
Horse racing will be exempt from the restrictions - given the commercial importance of gambling on its viability - but all other sports will be included.
However, it is the impact on football where the ban will be felt the most, especially given the financial value of the sport to both the gambling companies and broadcasters.
Nearly 60% of clubs in England's top two divisions have gambling companies as shirt sponsors.
Final ratification is needed from the Industry Group for Responsible Gambling (IGRG) before the ban comes into force.
It is understood that there will be a meeting next week to rubber stamp the proposals. The intention will be to introduce the ban for the start of the 2019-20 season.
On Thursday, the RGA said: "The Gambling Industry Code for Socially Responsible Advertising is reviewed annually, and several options are currently being considered as the basis for possible enhancements in 2019.
"However, nothing has yet been finalised."
Tom Watson MP, Labour's Shadow Secretary of State for Digital, Culture, Media and Sport said he was "delighted" by the move as the number of adverts during live sports had "clearly reached crisis levels".
He added: "There was clear public support for these restrictions and I'm glad that the Remote Gambling Association has taken its responsibilities seriously and listened."
Secretary of State for Digital, Culture, Media and Sport, Jeremy Wright MP, said it was a "welcome move".
"Gambling firms banning advertising on TV during live sport is a welcome move and I am pleased that the sector is stepping up and responding to public concerns," he said.
"It is vital children and vulnerable people are protected from the threat of gambling related harm. Companies must be socially responsible."
Sarah Hanratty, chief executive of the Senet Group - the industry's responsible gambling body, funded by the four largest UK gambling companies - said: "It has been clear for some time now that the volume and density of advertising and sponsorship messaging from gambling companies around live sport has become unsustainable.
"This is a welcome move from the leading industry operators who are taking the initiative to respond to public concern."
Could shirt sponsorship be next?
Matt Zarb-Cousin is a spokesperson for Fairer Gambling, a not-for-profit entity campaigning to reduce gambling-related harm and crime.
It is long overdue, there has been a huge amount of pressure on the sector over the volume of advertising which has increased exponentially year on year.
But for it to be truly effective, it should also include shirt and league sponsorship and digital advertising around a pitch.
It is better that there are going to be no ads during live sporting events but that falls some way short of being effective. If the whistle-to-whistle TV advertising ban is justified then the other things are as well.
I think it is worth bearing in mind that it is the broadcasters that have been most resistant to the clampdown on advertising.
I think the writing is on the wall. If they hadn't done this, the government would have acted anyway, perhaps next year.
There is no legislation in the pipeline but the strength of feeling cross-party and in both houses suggests that it is unsustainable.
Will it make a difference?
Marc Etches is the chief executive of GambleAware, a leading charity committed to minimising gambling-related harm.
We have been saying for a long time now that gambling is being increasingly normalised for children. They are growing up in a very different world than their parents, one where technology and the internet are ever present.
So while we welcome this move by betting companies, it is important to pay attention to analysis that shows the marketing spend online is five times the amount spent on television.
The fact that it is reported that one in eight 11 to 16 year olds are following gambling companies on social media is very concerning.
What is the wider impact?
Bill Wilson, BBC Business reporter
Investors have been betting on Thursday that gambling firms' earnings will be hit by the ban.
William Hill, Paddy Power, Betfair and GVC (formerly Ladbrokes Coral) have all been in the red on the stock market on Thursday.
Football and gambling have been inextricably linked for nearly a century, since the launch of the football pools in 1923.
That connection has grown as the sport has become more commercialised, with many teams featuring gambling firms on the front of their shirts. Clubs have their own gambling partners, and allow fans to bet on matches within their stadiums.
But with problem gambling increasingly in the spotlight - look at the recent furore over fixed odds betting terminals (FOBTs) - there has been growing disquiet about the seemingly relentless association of football with gambling.
With concerns among politicians and psychologists about the potential effect on the vulnerable, including children, it seems gambling firms have decided to take positive action of their own, rather than risk waiting and being pushed, as was the case with FOBTs.