Natalie Richardson: Ipswich Town midfielder on making footgolf World Cup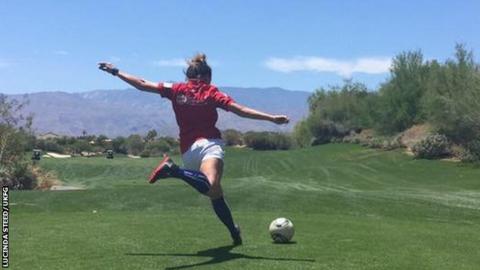 As a young girl playing youth football at Tottenham Ladies, Natalie Richardson dreamt of representing her country at the World Cup.
On Monday that dream will come true.
However, she will not be stepping onto a football pitch after lacing up her boots. Instead she will be walking up to the first tee at the Montgomerie Golf Course near Marrakesh in Morocco.
The 26-year-old from Cambridge, who plays football for Ipswich Town in England's fourth division, has been included in the UK's squad for the Footgolf World Cup.
The sport's only two previous World Cups have been all-male events, so Richardson will become one of the first women ever to compete in the tournament.
"When I found out I was in the squad, I was just delighted," Richardson told BBC Sport. "The closest experience I've had to this was playing for the UK against America in the 2017 Jansen Cup, which is the equivalent of the Ryder Cup.
"It took place in California and we won. The feeling on the flight home was amazing, and if we can do the same at the World Cup it will be on another level."
The Federation for International FootGolf says the game was born in the Netherlands in 2009. It involves kicking a standard size 5 football around a golf course - the winner being the player who takes the fewest shots to get the ball into a 21-inch hole.
2010 World Cup ball like gold dust
Incredibly, the ball of choice for the precision sport is the Jabulani - the official ball at the 2010 football World Cup in South Africa, which was heavily criticised for being "unpredictable" and even described as "supernatural".
Such is the popularity of the ball, footgolf players find themselves paying in upwards of £400 for them on the second-hand market.
The first two World Cups have been won by the respective hosts. Bela Lengyel of Hungary was victorious in 2012, with Christian Otero of Argentina triumphant in 2016.
Both tournaments saw players compete as individuals under their country's flag, but in 2018 the World Cup follows a different format.
A men's tournament, a men's over-45s tournament and a women's tournament will produce individual world champions with scores also combining for an overall World Cup-winning country.
Such has been the quirky sports' growth in recent years, that a sticker album has been produced by Panini - just as the Italian company has done for generations for the football World Cup.
While Richardson is not entirely happy about her debut as a collectable sticker because of a typo, it does mark a huge moment for a sport looking for mainstream recognition.
"All the world cup players are in it," she said. "I'm one of them, but unfortunately they've spelt my first name wrong (Nathalie instead of Natalie)
"I'm a bit disappointed but what can you do. It's really cool to say I'm in a Panini sticker album - the players are doing swaps and trying to complete their books."
The UK are among the top contenders for the tournament in North Africa, with World No. 1 - and one of few footgolf professionals - Ben Clarke and World No. 3 Jamie Cullum both teeing off in the colours of the Union Jack.
UK are the favourites
Richardson is determined to do her part in bringing World Cup honours back home with her.
"To be honest, we're favourites," she said.
"The US are strong, Argentina are strong and then you've got teams like Italy, Spain, Hungary and the Netherlands who are also expected to challenge.
"I'm very much going there to become the women's world champion."
She is one of three women in the UK squad alongside Claire Williams and world number one Sophie Brown. Richardson herself won one of this year's biggest tournaments, The International, which was staged at Celtic Manor in Wales.
As a set-piece specialist, who has previously played in WSL 2 for Watford, it is easy to understand why she would be good at footgolf, but are there skills that transfer the other way?
"Without a doubt," said Richardson. "There are so many factors that come into play. You have got to consider the playing surface, the weather, the weight.
"I find footgolf really helps with the accuracy and power of my shots, and my passing in football.
"It's brilliant to witness the explosion of interest in women's football, and I also want to get more girls and women playing footgolf. Ultimately, we want to have this sport in the Olympics.
"I've played football since I was 10, but I've only been playing footgolf for three years. People always ask me which I prefer, but it's impossible to choose. I find them both rewarding, although representing my country in footgolf brings a real sense of pride."
It might not have been the way Richardson envisaged it happening as a child, but her World Cup dream is about to come true.
Full UK squad for the 2019 Footgolf World Cup:
Men: Mark Scotchford, Ben Clarke, Liam Shutes, Marc Cowell, Jamie Cullum, Nick Iron, Clinton Moore, Karl May, Matt Morgan, Craig Galbraith, Tom Spink, Neil Shave, Joe McCourt, Blake Cavender, Jay Parkinson, David Quigley, Mikey Downey, Dan Spice, Shaun Lindsay, Steve Baker, Harry Gill.
Women: Natalie Richardson, Sophie Brown, Claire Williams.
Seniors (over 45s): Derek Mills, Mark Eaglestone, Andy Peck, Gavin Howe.