Team Sky: Sky to end backing of British powerhouse in 2019
Last updated on .From the section Cycling381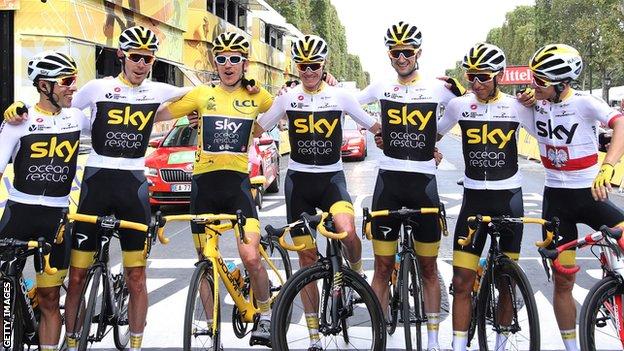 The future of Team Sky, which has delivered Tour de France wins for Britons Sir Bradley Wiggins, Chris Froome and Geraint Thomas, is in doubt after broadcaster Sky announced it will withdraw backing at the end of 2019.
Team Sky was launched in January 2010 and has since amassed 322 victories, including eight Grand Tour successes.
"Team Sky will continue to race under a different name if a new backer is secured to provide funding from the beginning of 2020," said a Team Sky statement.
Wiggins has left the Team Sky set-up to establish his own team after retiring as a rider, but Froome and Thomas are still part of its roster, with reigning Tour champion Thomas signing a new three-year deal with Team Sky in September.
Graham McWilliam, chairman of Team Sky, said it was "the right time" to bring the broadcaster's involvement with the cycling team to an end and it had been "our decision".
"It's been a pleasure and a privilege to have been on the journey with Team Sky and British Cycling right from the start. Priority now is to help find new partners to take the team into the future," he added.

Analysis
BBC sports editor Dan Roan
This marks the beginning of the end of an era of both success and scandal.
Thanks to unmatched levels of financial support from their main backer, Team Sky have come to dominate their sport in recent years.
While they will be missed by their fans, others in the sport will no doubt feel this finally gives other teams a chance to compete and is healthy for cycling. But as well as being arguably the most successful current professional team in British sport, they are also the most controversial.
Sky sources tell me that the decision - taken by chief executive Jeremy Darroch - was part of a natural review of commercial partnerships after the £30bn takeover of the satellite broadcaster by media giant Comcast and not to do with the string of high-profile controversies that so damaged the team's reputation in recent years.
But it is only a few months since a scathing report by a parliamentary committee concluded that Team Sky had "crossed the ethical line" over their use of medical exemptions for banned drugs.
The team denied this, but the intrigue surrounding a mystery Jiffy bag - a medical delivery to Sir Bradley Wiggins in 2011; the inconsistencies in Sky's explanations, and the absence of medical records at a team that was known for attention to detail and 'marginal gains', were further devastating blows.
Four-time Tour de France winner Chris Froome was cleared of any wrongdoing in the case of his adverse analytical finding for salbutamol, but the saga did further damage to the team's standing.
On the one hand, the timing is intriguing. Geraint Thomas' maiden Tour de France win was regarded as a timely PR boost after so much controversy and thoughts will now turn to the riders and staff, all of whom face an uncertain future.
But there is more controversy to come. In February, the man at the very centre of the Jiffy bag scandal - ex-Team Sky chief medic Dr Richard Freeman - has a General Medical Council hearing when he will be asked to explain a mystery delivery of testosterone to the velodrome in 2011.
Maybe Sky had simply had enough of the negative headlines, despite so many wins.

Promising 21-year-old Colombian Egan Bernal, whose performance in this year's Tour de France marked him out as a potential Grand Tour contender, signed a new five-year deal in October.
"While Sky will be moving on at the end of next year, the team is open minded about the future and the potential of working with a new partner, should the right opportunity present itself," said team principal Sir Dave Brailsford.
"We aren't finished yet by any means. There is another exciting year of racing ahead of us and we will be doing everything we can to deliver more Team Sky success in 2019."
Team Sky's ambition to become the first team to win the Tour de France with a British rider was seen as hugely ambitious when they launched.
| | | | |
| --- | --- | --- | --- |
| Team Sky's Grand Tours record (best-placed rider) | Giro D'Italia | Tour de France | Vuelta a Espana |
| 2010 | 17th - Dario Cioni | 16th - Thomas Lofkvist | Withdrew |
| 2011 | 20th - Thomas Lofkvist | 24th - Rigoberto Uran | 2nd - Chris Froome |
| 2012 | 7th - Rigoberto Uran | 1st - Bradley Wiggins | 4th - Chris Froome |
| 2013 | 2nd - Rigoberto Uran | 1st - Chris Froome | 27th - Rigoberto Uran |
| 2014 | 22nd - Sebastian Henao | 18th - Mikel Nieve | 2nd - Chris Froome |
| 2015 | 6th - Leopold Konig | 1st - Chris Froome | 8th - Mikel Nieve |
| 2016 | 17th - Sebastian Henao | 1st - Chris Froome | 2nd - Chris Froome |
| 2017 | 17th - Mikel Landa | 1st - Chris Froome | 1st - Chris Froome |
| 2018 | 1st - Chris Froome | 1st - Geraint Thomas | 15th - David de la Cruz |
But they have gone on to dominate the sport's most famous race, winning six of the past seven editions.
However, the efficient but unspectacular style and big spending that has underpinned their stranglehold has proved unpopular with some fans, particularly in France.
The team has also been subject to allegations of cheating.
Froome, a four-time Tour winner with Sky, had an anti-doping case brought against him and subsequently dropped by the UCI, while Wiggins has faced questions over his use of a medical exemption for hayfever medication.
The UK Anti-Doping Agency conducted a 14-month investigation into a 'mystery package' delivered to then-team doctor Richard Freeman on the final day of Wiggins' successful Criterium du Dauphine bid in 2011.
Team Sky, Froome and Wiggins deny any wrongdoing in all three cases.
US cable giant Comcast completed a £30bn takeover of Sky earlier this year, ousting Rupert Murdoch's Fox.
Fox, who owned a minority stake in Team Sky, will also end their involvement in the team from the end of 2019.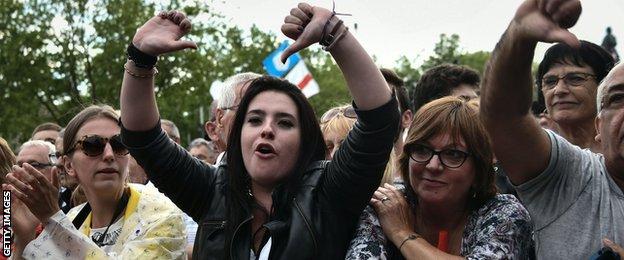 Analysis
BBC chief sports writer Tom Fordyce
This was news that neither principal Sir Dave Brailsford nor his riders saw coming, and it leaves a team that has dominated men's road racing facing the most uncertain of futures.
The size of Sky's sponsorship over the past eight seasons transformed the balance of power in professional cycling. When Brailsford announced at the team's inception that there would be a British winner of the Tour de France it seemed an impossibility.
They instead went on to win six of the last seven yellow jerseys, their budget larger than any of their rivals, their roster strong enough to feature riders in support roles who were good enough to lead many other teams.
But it was a relationship always underpinned by the love that James Murdoch - former chief executive of Sky plc and 21st Century Fox - discovered for cycling mid-way through his life, the classic Mamil (middle-aged man in lycra) given an entire team to play with rather than simply a new bike.
Murdoch was always hands-on. He was texting Brailsford constantly from the US as Chris Froome pulled off his remarkable late coup on stage 19 on this year's Giro d'Italia, the only of one of cycling's three Grand Tours that Sky had not won coming into 2018. The impetus for the team's jerseys featuring an anti-plastics campaign last season came from Murdoch's wife Kathryn, as did the design for the black orca that figured on the back of the white kit.
When Murdoch resigned from 21st Century Fox after Sky were taken over by US giants Comcast, a critical link in the chain had been removed.
This is not necessarily the end for the team. Team sponsorships in cycling change frequently. While the size of Sky's investment may be been unprecedented, their length of tenure was unusual too.
But finding a sponsor willing to match that financial commitment, at a time of significant financial stress on British companies and after a string of controversies about some of Sky's practices, will perhaps be Brailsford's biggest challenge yet.