World Anti-Doping Agency gains access to Moscow lab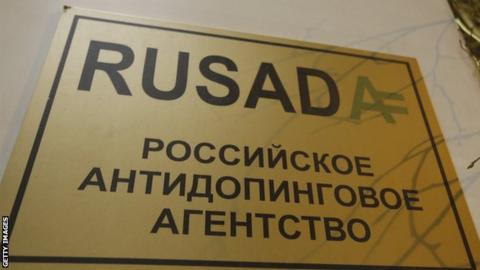 A World Anti-Doping Agency team has gained access to the Russian Anti-Doping Agency's laboratory in Moscow, 10 days after an initial deadline.
Wada's inspection team had been denied full access to data after Rusada was set a 31 December deadline to comply.
The visit was a condition of Wada's controversial reinstatement of Rusada in September 2018.
A Wada spokesperson told BBC Sport the three-person team had reported "no issues" with their work so far.
Speaking to Russian media, the country's sports minister, Pavel Kolobkov, said the work should be completed within the next three days.
"Today the joint expert group got down to work. Work on setting up the equipment has begun, including on copying the databases," he said.
Russia's failure to provide full access to the laboratory and data before the December deadline led to 16 national anti-doping bodies (Nados) and Wada's athlete committee to call for the country to be suspended.
The issue will be debated when Wada's compliance review committee (CRC), an independent body, meets on 14 January, after which it will make a recommendation to Wada's executive committee (ExCo).
US Anti-Doping Agency head Travis Tygart said: "If accurate, it is a good thing that the signals emerging from Wada are that its group has been allowed into the Moscow laboratory.
"We remain vigilant to ensure a full public disclosure that the evidence obtained on the approximately 9,000 presumptive positive drug tests which exists in the laboratory is authentic. It is in the clear public interest that Wada does this openly and transparently.
"Until that is done, Wada should declare the Russians non-compliant and to be reinstated they should be at a minimum required to cooperate with the dozens of international sport federations which have the responsibility to prosecute the thousands of individual cases."
A report from Professor Richard McLaren in July 2016 found Russia operated a state-sponsored doping programme for four years across the "vast majority" of Olympic sports.
A subsequent report stated more than 1,000 Russian athletes benefited from doping and Russia was later banned from competing at the 2018 Winter Olympics.
Wada had insisted Russia meet two criteria before Rusada could be reinstated to competition; accept the findings of the McLaren report, and grant access to Moscow's anti-doping laboratory.
Mims Davies, minister for sport, said she would watch Wada's work "with significant interest" over the coming week.
"It is of the utmost importance that we protect the integrity of sport," she said. "I therefore watch with significant interest any key outcomes of Wada's vital return trip to Moscow this week.
"UK Sport, who I visited yesterday, are working hard to support our brilliant, dedicated athletes in their preparations for Tokyo 2020. We simply must ensure that they are able to compete on a level playing field.
"Wada's role is crucial in this, as an authority and advocate for fair and clean sport. It is essential they create and foster confidence in their work.
"I will look to them to act quickly and decisively in any area needed following their visit to Russia and the forthcoming Compliance Review Committee meeting next week."
How the Russian doping scandal unfolded
December 2014: As many as 99% of Russian athletes are guilty of doping, a German TV documentary alleges.
November 2015: A Wada commission publishes an independent report alleging widespread corruption, amounting to state-sponsored doping in Russian track and field athletics. Rusada is declared non-compliant.
May 2016: Former Moscow anti-doping laboratory boss Grigory Rodchenkov, who has turned whistleblower, says dozens of Russian athletes at the 2014 Winter Olympics in Sochi had cheated.
July 2016: Russia operated a state-sponsored doping programme for four years across the "vast majority" of summer and winter Olympic sports, says a report from Professor Richard McLaren.
August 2016: International Olympic Committee (IOC) decides against imposing a blanket ban on Russian athletes at the 2016 Olympics in Rio. Individual sporting federations rule instead, with 271 Russians competing.
December 2016: Wada publishes the second part of the McLaren report which says more than 1,000 Russian athletes benefited from doping.
January 2017: Rusada and Russian sport authorities given list of criteria to achieve before winning back recognition.
March 2017: Wada says Russia's anti-doping reforms are not happening quickly enough.
February 2018: Russia are banned from competing at 2018 Winter Olympics in South Korea by the IOC, but 169 athletes who prove they are clean allowed to compete under a neutral flag.
May 2018: Wada writes to Rusada offering 'compromise' solution.
September 2018: News of the compromise, revealed by the BBC, prompts fury from athletes and doping bodies.
December 2018: Wada team is unable to access Moscow laboratory and data.
January 2019: Wada team gains access to Moscow laboratory and data.