South African Paralympian Ntando Mahlangu is the rising star
By Peter Musembi
BBC Sport
Last updated on .From the section Sport Africa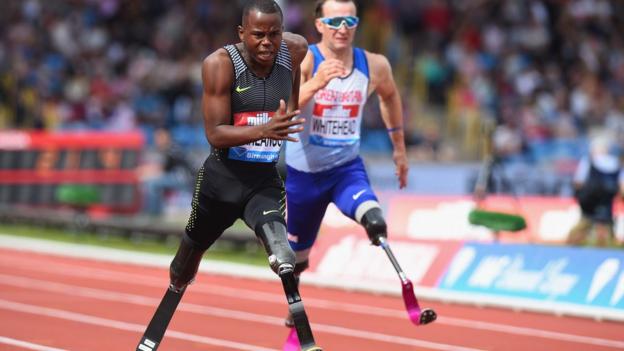 Winning a silver medal at the Paralympics when you are barely a teenager is a big deal. But it is even a greater deal when such a feat is achieved by someone who was confined to a wheelchair for the first 10 years of their life.
When South African teenager Ntando Mahlangu won silver at the 2016 Paralympics in Rio in 200 metres final, in the T42 category, not many people knew about him. It had only been four years since Mahlangu had for the very first time stepped out of his wheelchair.
In Brazil, he was beaten in his event by Britain's more experienced Richard Whitehead. But last Saturday, Mahlangu showed how far he has come - beating the Briton during the London Diamond League which also doubled up as Anniversary Games for Britain.
One thing that stands out above Mahlangu's physical ability is his mental acute. "I never see disabled or abled, a disabled guy can be president. I always try to stay positive, think that it is a privilege; I'm living, I got a house, I've got food, and all of those things keep me motivated."
Now 16, the double above-knee amputee high school student has a sterling career ahead as a Paralympian, with potential to dominate sprints for the next decade or beyond.
When BBC Sport Africa met with the high school student in Pretoria, he was beaming with confidence and exuding such a positive outlook to life, having broken the South African junior champions' record.
"The best is yet to come, I won't predict when it's going to be, but for surely in the years coming." He says.
For the first 10 years of his life, Mahlangu was confined to a wheel chair owing to a condition called Hemimolia, which meant that from birth his legs hadn't fully developed below his knees.
Life for him changed in 2012 when he was fitted with blades to assist him to walk. He told Jumping Kids, a charity that helps children with disability in South Africa he wanted to play football and they acquired the prosthetics for him.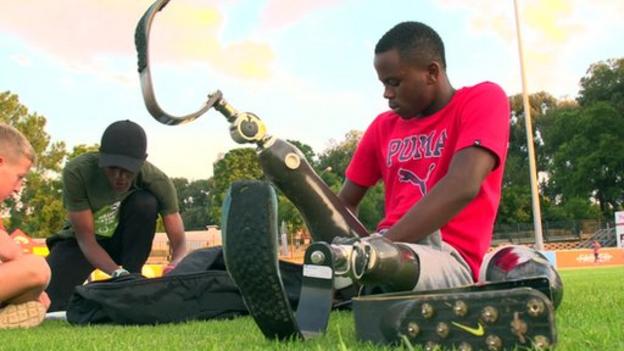 "That's when I started living, and that's when I started being a child. That's when I actually started to enjoy life, knowing more about life and being the guy I am today." He told BBC Sport Africa.
South African Paralympics officials are confident Mahlangu will rise to stardom in the near future. "Seeing what he did in Rio in 2014 I can't wait to be in Tokyo to see what he is going to do. Ntando is an ambassador not just for the Paralympian fraternity but for all people with disability" says Leon Fleiser, who was South Africa's chef de mission in Rio.
Mahlangu isn't keen to be identified as a blade runner but just wants to be himself. He also doesn't want to compare himself to any other Paralympian, yet is looking forward to breaking more records in the future.
Qualification to participate in the Rio Paralympics remains his biggest achievement, and the silver medal, he says was just "the little candle on the cake"- as he did not look forward to anything beyond just enjoying himself at the games.
He is level headed, and hasn't allowed the prospects of becoming a star athlete to pre-occupy him.
"I think what I'm doing today is just inspiring other people, and if I'm inspiring other people, then that means I am doing a good thing."
He has already inspired Jumping Kid, the charity that donated his prosthetic blades. "Being a double above the knee amputee like Ntando is really difficult. Having somebody like him out there and visible and doing great things, helps inspire all the kids, because they can see someone making so much more of his equipment, and the hard work," says Michael Stevens, the charity's Operational Manager.
For now Mahlangu is focusing on high school education in Pretoria with hopes of pursuing either medicine or Engineering when he goes to university.