Mhlengi Gwala: 'Chainsaw attack won't stop me doing what I love'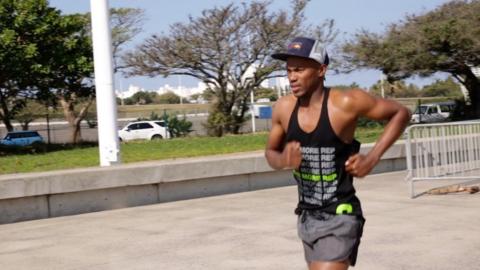 An Ironman is one of sport's toughest challenges - requiring monster swims and bike rides and a marathon run - so just imagine wanting to do one after nearly losing your legs in a horrific chainsaw attack.
In March, Mhlengi Gwala was ambushed on an early morning training run in his native South Africa by three men who dragged him into bushes at gunpoint and tried to saw off his legs.
Remarkably, not only did the 27-year-old survive with both legs intact, he returned to running just four months later - with an iron will and an unbreakable spirit.
"I will do it soon, maybe after three or four years. As soon as I have fully recovered I will do it," Gwala told BBC Sport Africa.
"I won't sit in a house and lock myself in the doors because of them. I have to come out and do what I love."
The jovial South African - who took up triathlon to battle alcohol issues - was one of his country's top triathletes at the time.
'I'm dying'
He believes his assailants, who targeted him between Chesterville and Mayville near the southern city of Durban, knew he was an athlete given his regular early morning training run in the area.
While violent crime may not be new to the Durban native, this was very different - and not just because he had a gun constantly held against his head.
"I've been robbed three times - with a gun and with a knife - so I was a bit scared," he recalls. "But when they pulled the chainsaw, my mouth opened wide."
"I tried to ask what I did wrong but they didn't reply. They were talking to themselves in a language I didn't understand and started to grab my feet and cut my leg - as if they were cutting a tree.
"I was thinking: 'I'm dying' and that they [also] needed my head or my private parts."
Thankfully, they didn't.
Why did they attack him?
After a while, the attackers suddenly stopped and left - with the father-of-two believing that the chainsaw may have broken.
"When I was lying there [after they went], the pain was very much. Then I thought about my kids - that if I die, then they'll never see me again."
The thought helped Gwala get up, hop - on his left leg, which was in better shape than his right - and crawl back to the road, where he was rescued and taken to hospital.
To this day, he still has no firm understanding of why the attack happened, especially since none of his belongings were stolen.
"There's a belief that if you take a body part from someone and mix it with another and go to a traditional healer, you get wealthy," he suggested. "So it could be that or it could be jealousy."
Long road to recovery
Following surgery, doctors told Gwala he would need two years to fully recover.
But a few months on, he is way ahead of schedule and has bounced back with a smile on his face.
He says he has been inspired by the thousands who donated to a crowdfunding campaign, which raised $35,000 (£27,000) on his behalf within 48 hours.
"Those people are like my alarm in the morning. They wake me up so I can go and train. They will see me racing soon."
But it hasn't all been easy.
There have been tough times along the way and Sandile Shange, Mhlengi's training partner, has been with him throughout.
"At times, he'd phone me and say: 'I don't think this is coming right' and we'd talk and say: 'Nothing comes in one day.'"
Battle with alcohol
Shange says that Gwala's mental fortitude shone through during one of his hospital visits.
"[Mhlengi] said to me: 'Listen - you know I need to stand back on my feet. I need to start training and I need to start racing again.'
"I said it was too early but he was like: 'I have started training with my mind now. Because if I sleep, I will sleep forever but if I wake up and go, I will go forever.'"
Gwala is back walking once again.
Since then, nothing has stopped Gwala who is already taking part in local cycling races despite some initial problems on his return to action.
"I was very happy when I did my first run, but it was emotional because I was running like a crab," he says with a laugh.
"I even cried when I saw the video because it was way different to what it was before when I used to run straight.
"But I said to myself that I need to give myself some time - the more I practise, the more I get better."
Even though his professional triathlon career - and Olympic dreams - have been undeniably wrecked, Gwala has stayed true to a sport that he credits for changing his life.
"I was drinking alcohol too much before," he said. "I love triathlon so much because it took me out of alcohol and drugs. If I wasn't doing sport, I would be an alcoholic."
'I forgive them'
Upon his release from hospital, Gwala's abstinence was tested when he visited a friend where Easter celebrations were in full swing.
He passed that test in impressive fashion - which also sums up his approach to his unimaginable attack in March.
Although fear still lingers, with Gwala admitting the sound of a chainsaw can send memories flooding back, he is determined to maintain his beaming smile.
As for his attackers, he has a simple message.
"I forgive them because the sooner I forgive them, the sooner I wake up and be strong again."