Dino Maamria: Born in a tent to managing in League Two
By Isaac Fanin
BBC Sport Africa reporter
Last updated on .From the section Sport Africa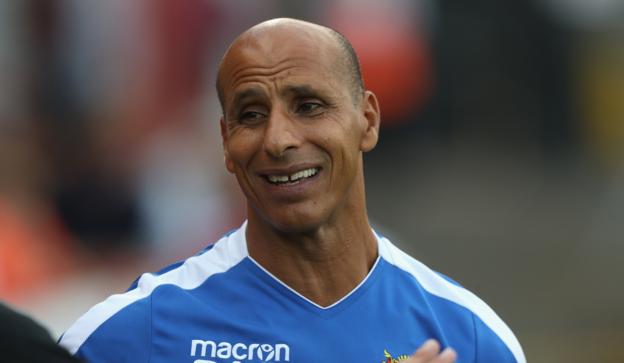 As football upbringings go, it would be fair to say that Nourredine 'Dino' Maamria's is unique to the English game.
"I was born in a tent, in the desert in the south of Tunisia, a place called Gafsa," the Stevenage FC manager tells BBC Sport Africa.
Maamria's father was a miner who also herded camels while Dino even had a pet goat named after Gary Lineker, since it hung around the goal whenever he played football.
His remarkable journey from the Saharan desert to the fourth-tier club involves unlikely encounters with talent-spotting lorry drivers, a holidaying Burnley scout as well as an against-the-odds spirit.
Today, the Stevenage boss is the only African managing professionally in Britain.
Some do have African roots, such as Nuno Espiritu Santo, born in island nation Sao Tome, but the Wolves boss went on to represent Portugal at international level (and came to England that way).
It's incredibly rare for an African to manage in England, so how did Maamria do it?
The 47-year-old, who played across a number of lower league clubs in England at the turn of the century, believes his longest stay - across three stints at Stevenage - created the opportunity.
"It takes a brave chairman to employ an African," he said. "I think it was because I was a player here before and I was a coach here before so the chairman knows me and trusts me."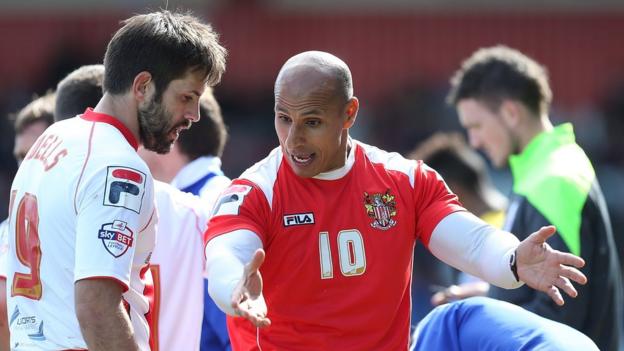 "It's difficult because there are so many English and Europeans around who are qualified. We are different - Africans are different. My weakness is that I'm a foreigner in a different country so I've got to be excellent at what I do to get noticed."
It's clear to see how his background is one of his biggest motivations and helps guide him when coaching.
"We have to survive in Africa. To survive we don't stand still. I tell my players, every lion wakes up in the morning and he's looking for the next meal.
"Every gazelle wakes up that morning thinking 'how am I going to escape the lion.' That's how we survive in Africa, you're waking up to be the lion or to be the gazelle."
As the youngest of six boys, Dino has always had to fight. Whether he's a lion or gazelle, his route into football is extraordinary.
"I got obsessed with football in 1978 World Cup. Back then, Tunisia were the only African team to represent the continent. That team really inspired a generation and one of them was me."
As well as being the only African team, they were the first African team to win a game at a World Cup, beating Mexico 3-1.
"To make it from where I come from you have to be obsessed with it, you've got to have resilience, you have to believe in what you're going do, in your dream and you have to be prepared to come back from setbacks."
Dino would certainly encounter plenty of the latter.
"I was 16 when I was when I got spotted playing bare feet on the playground by a lorry driver. He wrote my name on a matchstick and then one of the big clubs in Tunisia came for me."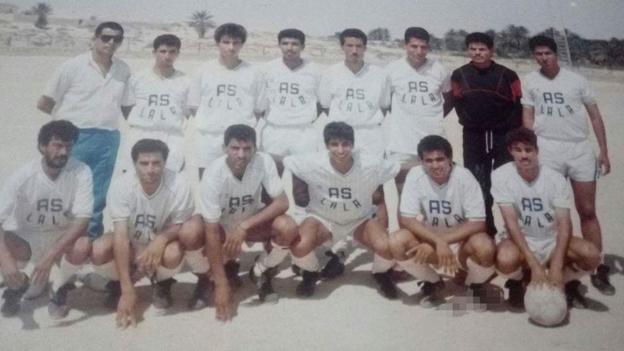 However his family were against him playing instead encouraging him to pursue an education.
"Where I come from education is everything and there was no such thing as professional football."
Dino reluctantly turned down that opportunity but his career is one of chance encounters.
Playing as a striker for his local side, La Marsa where he won a Tunisian FA Cup in 1994, he was spotted by a Burnley scout who happened to be in the country on holiday.
Maamria joined The Clarets in 1995 but his career with the club would be cut short due to a bad leg break.
"The easy decision would have been to quit and to go back home. But in the early 90s there was a lot of Tunisian players who went to Europe and then came back. I didn't want to do that, this is the home of football and I wanted to make it here."
It was decisions made during his rehab that have helped him break a glass ceiling. Rather than returning home to Tunisia, he began taking his coaching badges at the age of 25.
"I thought what am I going to do when I finish playing, I wanted to coach."
"I was doing my coaching badges in the night time with Burnley academy and then I was playing in the day. I'd take a team on Sunday, I had the likes of West Brom striker Jay Rodriguez."
"I made sure I got as qualified as possible. I'm as qualified as Jose Mourinho and Pep Guardiola. I know I am different and I don't want anyone to be more qualified than me, more knowledgeable than me."
Dino's love of the game and competitive spirit drove his desire to get his coaching badges young. He now has a UEFA Pro License, something commonly associated with Premier League coaches.
After leaving Burnley, he played across a number of lower league clubs but it was at Stevenage where he made his biggest impact.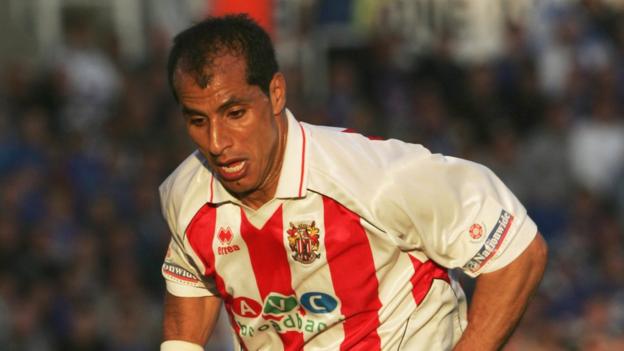 "This club is the closest to my heart in England," says a man who coached at the club under Graham Westley. I've spent the past 14 out of 18 years at this club as a player or coach.
"I take it personally that they do well because it's my town and I want to push them on in the Football League and put them on the map."
Since taking charge, after spells in non-league football with Southport and Nuneaton, Stevenage owner Phil Wallace decided to trust him with the job and since he joined in March the Boro have seen a vast upturn in fortunes.
Back then, the club were 16th in the league. Maamria kept them up and this season his team have started well and find themselves in the hunt for promotion.
"The best coaches in the world, they say, are the Spanish, the Germans, the Portuguese, some English. The trend goes that way."
"Clubs in our leagues, leagues above us, they're looking for Spanish or Portuguese. They're not better than us (Africans). It's because the trend is to go that way.
"Unfortunately no African [coaches] have come to English football and done well. Because that market hasn't been tried and trusted, there's a reluctance from chairmen to give jobs to Africans.
"But it's my opportunity now and hopefully I'll do well and many more African's will be in English football."