NFL labour dispute resolved as owners and players reach deal
Last updated on .From the section American football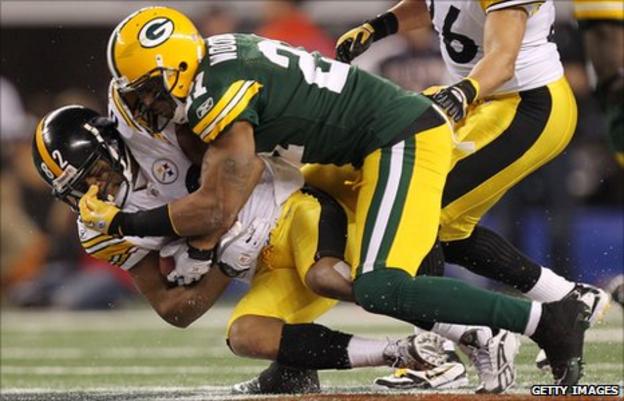 NFL owners and players have agreed a new deal which ends fears of a strike blighting the coming season.
The two sides reached agreement - which will be in force for the next 10 years - after months of thorny negotiations on issues including how annual revenues of $9bn (£5.5bn) are divided.
The NFL Players' Association decision to accept the deal comes after the clubs' owners backed it last week.
Green Bay will host New Orleans in the regular season's opener on 8 September.
The players' union and the owners worked throughout the weekend on a mutually acceptable settlement, and the Associated Press reported that the final deal was reached on Monday morning.
Key to the agreement was exactly what proportion of the NFL's revenue should go to the players.
The old deal - which expired in March after the league's 32 owners decided to opt out of it back in 2008, and saw players being locked out for the first time since the 1987 strike - saw revenues split roughly 50-50.
It is understood that the new agreement will see the owners keep 53% and the players 47%.
There will also be a team salary cap, which includes bonuses, of about $120m (£73.6m) in place for the 2011 season, and something similar for 2012 and 2013.
A new salary system will also be introduced to deal with the issue of rookies' pay.
And players will be granted unrestricted free agency after four seasons with a club, rather than three under the old deal.
NFL Commissioner Roger Goodell said of the long-awaited deal: "This is a long time coming, and football's back. And that's the great news for everybody."
And NFL Players' Association chief DeMaurice Smith said: "We didn't get everything that either side wanted... but we did arrive at a deal that we think is fair and balanced.
"I know it has been a very long process since the day we stood here that night in March.
"But our guys stood together when nobody thought we would. And football is back because of it."
Preparations for the coming season will now be accelerated, with clubs scrambling to sign young players who were picked in this spring's draft, as well as rookie free agents.
Talks with veteran free agents could also start on Tuesday, with signings beginning on Friday.
The Associated Press reports that training camps will open for 10 teams on Wednesday, 10 teams on Thursday, another 10 teams on Friday, and the last two teams on Sunday.
The deal makes it likely that the latest NFL International Series game between Tampa Bay and Chicago at Wembley will go ahead as planned on Sunday, 23 October.