Cornwall's Elliot Hoyte has bright US football future
Last updated on .From the section American football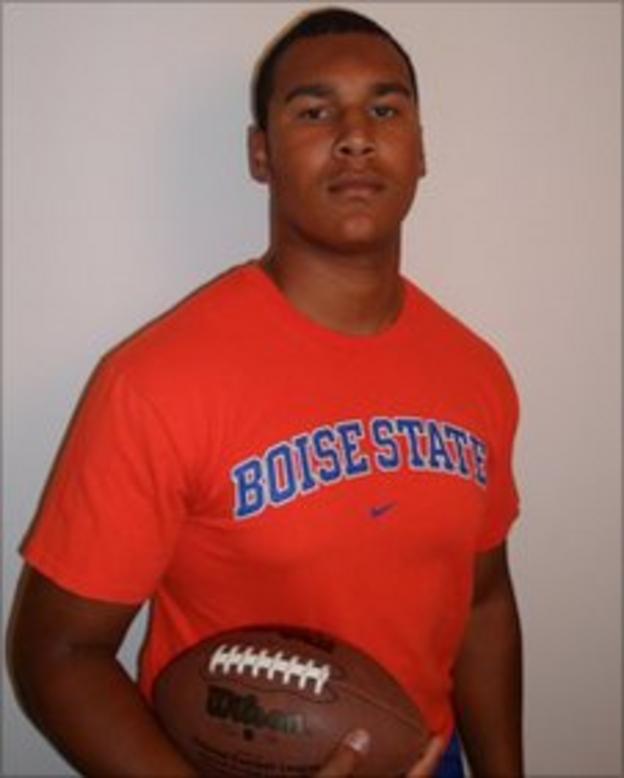 Cornish youngster Elliot Hoyte has been described as one of the best young American football players that a top US college has seen in a decade.
The 18-year-old former Cornish Sharks player has been awarded a full scholarship by Boise State University.
"They reckon he's the best defensive end prospect they've seen in 10 years," said Brian Smallworth, Hoyte's former coach at the Cornish Sharks.
Last season the teenager played for the Bristol Aztecs and Great Britain Lions.
He was offered the full athletics scholarship after attending a training camp run by the Idaho-based college and will begin his first term in January, combining sport with a business degree.
"It's pretty impressive that this young man who was within the Sharks organisation has been given this opportunity," added Smallworth.
Hoyte is the son of former London Monarchs defensive lineman Nigel Hoyte, who played in the World League during the 1990's.
"He's very young but that's when the Americans want them so they can nurture them and tell them how to play," said Smallworth.
"They do look at kids from Europe, they've got a few Dutch players there, as well as some Japanese players."
Elliot's father Nigel played American football played in the US and represented the London Monarchs in the 1990s. He is now a UK national coach.