NFL admits latest Wembley clash 'unlikely' to sell-out
By Ian Shoesmith
BBC Sport
Last updated on .From the section American football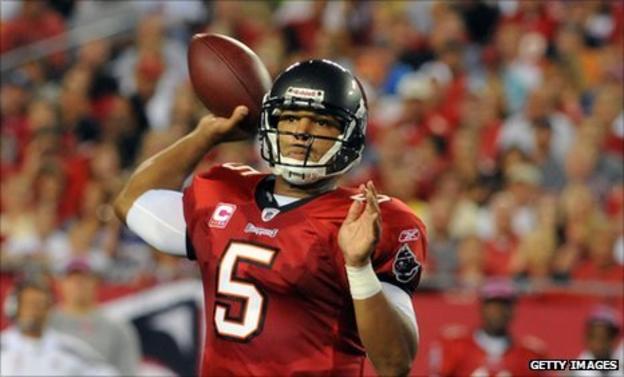 The International Series game at Wembley later this month is unlikely to be played before a sell-out Wembley crowd, BBC Sport has learned.
The 23 October meeting between Tampa Bay and Chicago will be the fifth competitive NFL game held in London.
Previous games have always sold out, but this year the NFL's managing director in the UK, Alistair Kirkwood, is expecting a "mid-70,000s" crowd.
But the NFL is still considering adding a second UK game in coming seasons.
Kirkwood said a number of factors were responsible for this year's game not selling out.
Perhaps the biggest reason, he said, was the long-running dispute between the NFL and the players' union, which threatened the entire 2011 season before finally being resolved during the summer.
This meant tickets for the Bears' clash with the Buccaneers only went on sale on 11 September - many months later than in previous years.
Kirkwood said: "We would sell 75-80% of our tickets directly around [the time of the] Super Bowl, taking advantage of BBC and Sky broadcasts at a time when our sport is at its most relevant and highly watched.
"This time around, because we had the issue with the players' union, around December and January [2010] there was nothing for us to say.
"It wasn't until early August that we were in a position to say that the game was definitely going to take place."
He said this forced the NFL in the UK to "play catch-up", squeezing nine months' preparations into just six weeks.
Kirkwood acknowledged that this had also had a significant effect on UK fans of the sport.
"I think, given the time scales involved, the fact that we've got a very national fanbase that comes from all over the place, and that we are on a very busy day of sport (which also features the Rugby World Cup final and several Premier League fixtures including the Manchester derby) somewhere in the mid-seventies I think will be a pleasing achievement in the circumstances."
When asked whether the lower attendance would upset the NFL power-brokers in the United States, Kirkwood was relatively relaxed, saying: "We continue to draw tremendous support from New York [headquarters] in everything we do. I think it would be a different story if our TV ratings or our popularity was going down appreciably because then you'd be questioning why we are doing this.
"You just have to look at the special circumstances - this is not a reflection on anything other than the circumstances we are in. Our ratings for the first three or four weeks on TV - for Channel 4 and Sky - are up in the region of 25% year-on-year.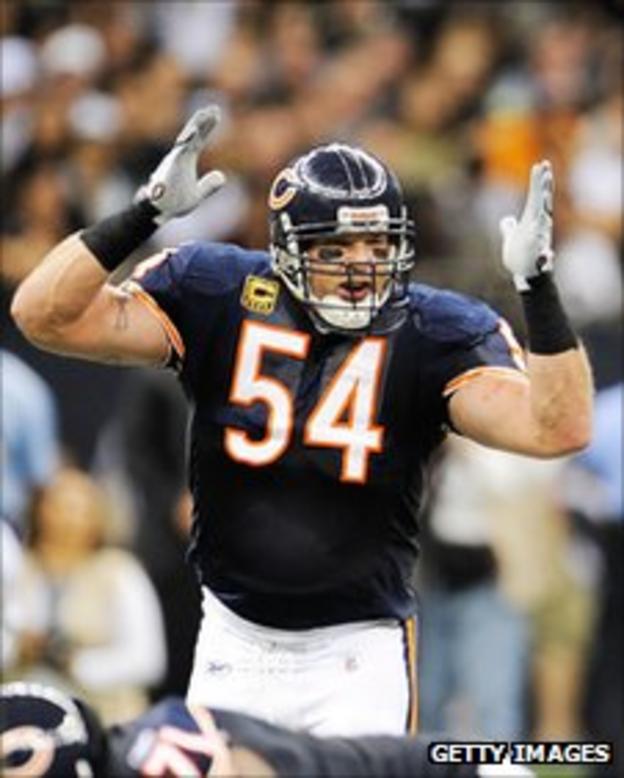 "The BBC Super Bowl numbers [of viewers] in February were superb. This doesn't suggest that there is an issue with the popularity of the sport."
Tickets for the match start at £35 but the majority are priced considerably higher which could also have played a part in slower sales.
"I'm going to review absolutely everything that we've done," said Kirkwood.
NFL commissioner Roger Goodell wants to spread American football's popularity around the world, and it is reported that he will seek approval next week from the league's owners to add a second London game to the regular season schedule, starting next year.
A British franchise has long been rumoured and Kirkwood is open to the idea of one being created at a future point.
"I think it's a natural question and a natural goal to aim for," said Kirkwood. "How we get there, a time scale and what's involved are all up for debate, to a certain extent purely because we are talking about something that's never been done before.
"But in the same way, back in 2007 when I was talking about the very first [Wembley] game, I probably would have struggled to believe that we would be doing games in five consecutive years.
"So everything is possible and I think the fact that we are discussing doing more in the UK means the more longer-term plans are definitely options for us."