NFL decides to play more games in Britain
Last updated on .From the section American football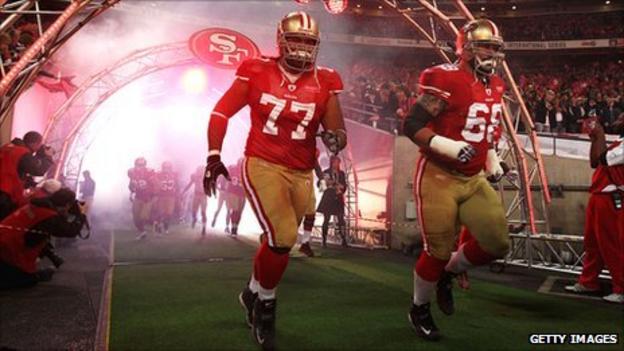 The National Football League (NFL) is set to play at least one regular-season game in the UK until at least 2016.
And a vote by team owners in Houston means the same team could volunteer to return each year to play a "home" game.
The Tampa Bay Buccaneers play at Wembley for the second time this year, facing Chicago on 23 October, although tickets are unlikely to sell out.
"The response to NFL games being played in the UK continues to be exceptional," said NFL commissioner Roger Goodell.
"We are confident that hosting additional games in the UK will be well received."
The NFL has been playing exhibition games in the UK since the early 1980s but only moved to holding competitive, regular-season game at Wembley Stadium in 2007.
"When the initial resolution was approved in 2006, the thinking at the time was that we would have two new teams every year," said Chris Parsons, NFL vice president of international.
"As the series evolved, we felt as though having a team return to the UK on a regular basis would certainly increase the fan base for that particular team, which in turn would drive fan growth for the entire league."
Few teams fail to sell out home matches in the United States on a regular basis, and those that have given up home matches in the past have been motivated by reasons other than ticket sales.
For example, the New Orleans Saints visited in 2008 as part of a campaign to increase tourism to their home area as it recovered from the effects of Hurrican Katrina.
Tampa Bay sold just 75% of tickets to home games last season, however (according to ESPN.com) - the second-lowest in the league.
The Buccaneers are owned by the Glazer family, who also own Manchester United, raising suggestions they could play at Old Trafford in future.
The resolution by the 32 team owners allows the league office to make decisions on the number of games in the UK and their location, rather than having to put it to another vote.
The league estimates it now has 11 million fans in Britain, including more than two million "avid" fans, a 32% increase in the past two years.
Since the London series began, the league says, Sunday TV viewership of NFL games has increased by 91% and the audience for the Super Bowl has grown by 74%.