National Football League outlines British team plan
By Ian Shoesmith
BBC Sport, House of Commons
Last updated on .From the section American football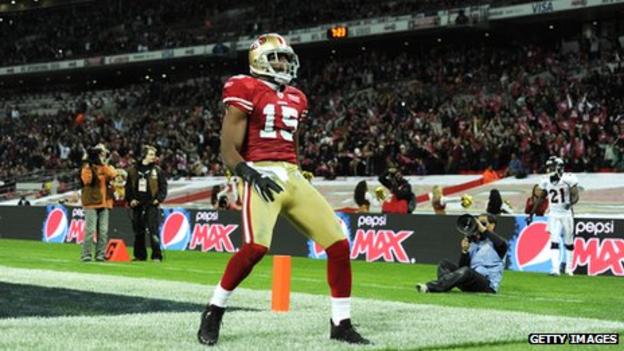 You don't get anywhere in the United States by dreaming small.
Having largely saturated their own market, the National Football League and the owners of its 32 clubs regard the sport's future as truly global.
In many ways Sunday's Wembley clash between the Tampa Bay Buccaneers and the Chicago Bears marks the end of the first phase of American football's march into Europe.
The first five annual games have been played before enthusiastic and big crowds, and the NFL thinks Britons are hungry for more.
This year's game has not sold out though - something the NFL attributes to the fact that it was only confirmed last month as a result of its protracted dispute with the players' trade union, with a resulting delay in the start of ticket sales.
The fact that this has not dissuaded the NFL's top brass in New York from increasing its UK presence is significant.
Once a pipe-dream, the creation of a British club, probably based in London, is now being talked about openly by the sport's senior executives, who on Wednesday were guests at the House of Commons, talking to MPs about how the sport's profile can be further raised in the UK.
John York is co-owner of the San Francisco 49ers, who played at Wembley last year, and he wants to bring his side back to London.
"We will increase the number of games to at least two [per season] and to encourage at least one of the two games to have a team that comes back for a minimum of three and possibly as many as five years in a row," he said.
York, who is also head of the NFL owners' international committee, explained that this strategy was designed to persuade British fans not only to attend games in the UK, but to build up an affinity with one of the regular participants.
"Obviously having a franchise here is a long-range plan," he said. "We'll have to see what we go through over the next few years, but if the game continues to grow and people love the game, the end game of having a franchise in London would be terrific."
York would not be drawn over whether a UK team would be part of a wider NFL expansion, or involve an existing franchise leaving a US city for London.
Mark Waller, an Englishman who is the NFL's New York-based chief marketing officer, suggested the latter approach was more likely, but refused to predict which team that might be.
"We're not looking at expanding the league," he said. "We're looking at the 32 clubs that we've got. So the assumption would be that any team that was coming over and doing more games would be one of the existing teams."
"Our job is not to pick clubs - it is to create the platform and then those clubs and those owners that are interested [in moving] will put themselves forward."
In fact, we could see a scenario in which a team might play half of its eight regular-season games in the United States and half in London.
Sustainability is certainly a big issue for the NFL in the UK. The sport burst onto the scene in the 1980s by presenting itself as a totally different proposition to football, which at that time was plagued by hooliganism and dwindling crowds attending matches in decrepit and sometimes dangerous stadia.
But despite the glitz and the glamour, the sport's profile dipped significantly in the '90s before its resurgence in recent years.
Gary Marshall, head of the British American Football Association, is confident that a UK-based team would help retain interest in the long run, but also thinks that more investment is needed at a grassroots level.
He said: "There are over 6,500 members in the British American Football Association and it's going up year by year. At university level it's gone up by 50% over the last four years and it's showing an annual growth of around about 10% with new teams being set up all the time.
"It's hard to quantify - there are a lot of people who play but are not necessarily our members. There are kids throwing balls around in schoolyards and parks and we need to attract them into our federation because it's a numbers game when you go to the government. They want to know how many are participating."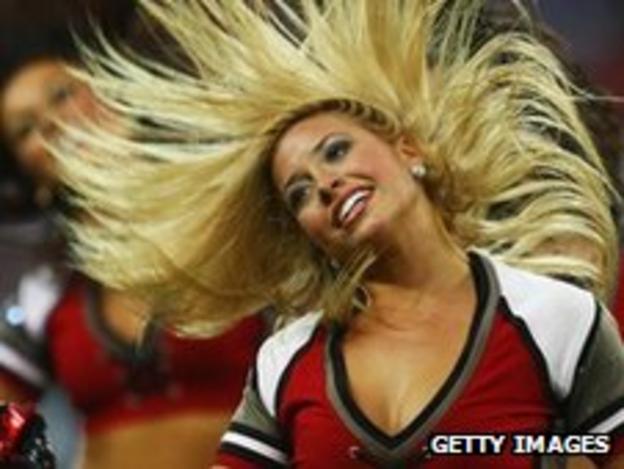 He thinks a talented British youngster making it in the NFL would really catch the British sporting public's imagination, but this is unlikely to happen in the short term.
"What we want is someone who comes through our grassroots programme, who plays flag-football here, goes to a British university and then goes to the States to play in the NFL. In the past we have had people who are British by passport [but] who have played in the States since the age of four."
On Sunday the Buccaneers will become the first team to return to Wembley for a second game, indicating that the Glazer family - who also own Manchester United - are fully signed-up members of the NFL's global club.
But are other owners as keen?
Waller said: "The next stage for us in the next couple of months is to work out which clubs are going to come back on a repeat basis."
Another Englishman, Chris Parsons, is the NFL's "head of international". He says owners are really taking notice of the fact that "we've doubled the UK fanbase since we started playing [at Wembley], we've doubled our [TV] ratings, we've got great exposure".
"In the UK they've seen the success and once you demonstrate the success it's very easy for them to follow it and support it going forward.
What we're offering to clubs will not be for every club - there's no question - but we're seeing all these clubs interested in coming over.
"By doing that, my goal would be [to] double the fanbase again over the next five years. And if you do that, then that's going to put us really in the mix in the top six or seven sports in the UK.
"Then you could really start having the conversation about 'we can sustain teams here'."