NFL London 2011: Chicago hold on to beat Tampa Bay at Wembley
Last updated on .From the section American football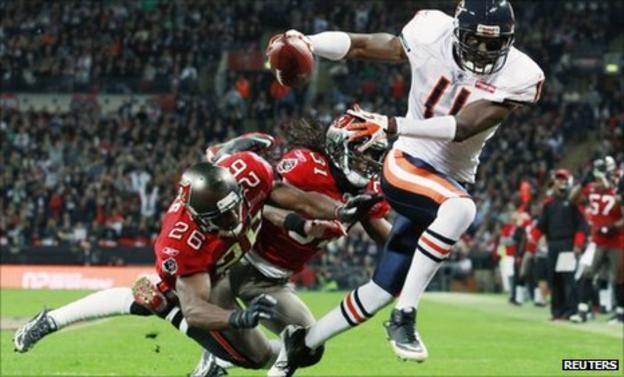 The Chicago Bears withstood a late fightback by the Tampa Bay Buccaneers to win 24-18 in the annual NFL game at Wembley.
The Bears led 21-5 going into the fourth quarter after touchdowns by Matt Forte, Roy Williams and Marion Barber.
The momentum then switched to the Buccaneers with Kellen Winslow and Dez Briscoe both going over over in the space of five minutes.
But a field goal and an interception made it safe for the Bears.
It was a second loss in three years in London for the Buccaneers and a second defeat of the day for their owners the Glazer family, who had taken a helicopter south to London after seeing Manchester United beaten 6-1 at home by rivals Manchester City.
But it turned out that Rio Ferdinand, who had been scheduled to join them as an honorary captain for Tampa Bay, had chosen to stay at home.
The game, the fifth NFL regular-season contest to be played at Wembley in as many years, had fallen short of a sell-out for the first time due to the NFL lockout this summer, which meant tickets only went on sale in September rather than last December.
Chicago running back Forte ran for 145 yards and scored the opening touchdown from 32 yards out late in the first quarter.
Tampa Bay struggled to get any rhythm and blew an easy chance set up by Tanard Jackson's interception, as Josh Freeman threw the ball straight back to Chicago, nine yards from the end zone.
Chicago added a second touchdown in the second quarter when Jay Cutler threw 25 yards to Roy Williams in a 226-yard performance, and when Tampa Bay settled for a field goal on their only promising drive of the first half, there was a sense it was already over.
Barber burst through early in the third quarter to add a third Bears touchdown and it took a defensive play to get Tampa Bay in position for their first touchdown, as Corey Lynch's interception set up a short touchdown pass to Winslow early in the fourth quarter.
With a two-point conversion attempt missed, the gap was still at 10 and the game was in Chicago's hands.
But when Freeman found Briscoe with a 24-yard pass with seven minutes and 25 seconds still on the clock it was game on.
Chicago responded with a thrilling drive, but despite a huge penalty call against Aqib Talib, they could only manage a field goal and it was down to the defence to hold on.