How the Green Bay Packers compete with the NFL big boys
By Ian Shoesmith
BBC Sport
Last updated on .From the section American football
In the frozen wastes of Wisconsin nearly 90 years ago, a small community stepped in to prevent their beloved team from going bust or, an even worse option in their eyes, leaving town.
There is little room for sentimentality in sport - money tends to dictate most things. And nowhere is this the case more than in the United States, where clubs are also known as franchises.
Over the years many teams chased the dollar. Baseball's Brooklyn Dodgers moved to Los Angeles in 1958 and the Oakland Raiders also briefly sought their fortune in LA before returning to their spiritual home a few years later.
Which makes the story of the Green Bay Packers even more remarkable. With a population of barely 100,000, it is by far the smallest city in the US to have a professional sports team. The next smallest, Buffalo, has around one million.
And if you think soccer's Premier League is the plaything of the rich, you should take a look at the NFL, where owning a team brings a warm fuzzy glow only associated with being a member of an exclusive club of 32.
The Packers, though, like to do things differently. They are unique in that they are 100% owned by the fans - more than 112,000 people are listed as shareholders. Strict rules prevent any one individual from taking over - they are run instead by a 45-strong board of elected directors.
Two thirds of those directors have to be from the local area, and they in turn keep an executive committee of seven in check.
Chief executive Mark Murphy has been in charge for the last four years, a period of spectacular success for the Packers which culminated in them winning the Super Bowl in February - a record 13th championship.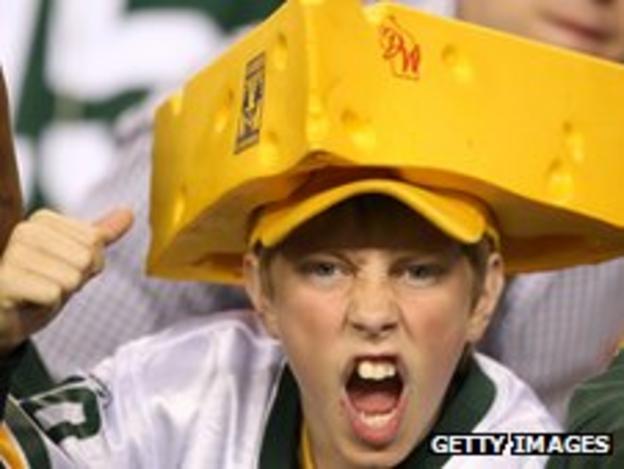 The only reason why they are able to win, though, is largely because of the sport's structure.
According to analysts at Harvard University, around 60% of all the money made by the league is generated centrally and then distributed equally between the 32 clubs. In 2009, that equated to $147m of the Packers' total revenue of $248m coming directly from NFL headquarters.
It essentially means that teams from the bigger cities subsidise the smaller clubs. When a fan buys a Dallas Cowboys shirt, for example, Green Bay get a cut of the profits.
Murphy said: "Without the revenue-sharing system we would not be competitive. It's part of what makes the NFL so popular, that on any given Sunday one team can beat another."
Competition is also helped by the fact that teams are forced to operate under a salary cap - they are limited in how much they can collectively pay their players. If they want to spend a fortune on a star quarterback, they have less to spend on other positions.
Murphy, a colourful character who won a Super Bowl with the Redskins in 1983, was a players' union rep, before swapping shoulder-pads for legal pads as a lawyer in Washington DC until he returned to sport, continued: "Whether you win or lose comes down to not who has the biggest market and the most money, but who has the best management, who makes the best decisions and has the best coaching.
"To me, it's the main reason that the league is so popular now.
"Our season ticket waiting list is up to 93,000 and people that are coming off the waiting list got on it in the 1980s. When they die, our rules say fans can leave their ticket only to a direct relative.
"I've heard from lawyers negotiating divorce settlements who say that the trickiest issue is who gets the Packers tickets."
The Packers' recent success, combined with their reputation for being a successful David in a league full of Goliaths, could see them challenge the likes of the Dallas Cowboys, Chicago Bears, San Francisco 49ers, New York Giants and Miami Dolphins in terms of worldwide popularity.
NFL chiefs are desperate to increase the sport's global profile and for the last five years have persuaded owners to sacrifice one of their eight regular-season home games in order to play at Wembley.
So are the Packers likely to follow in the footsteps of the Dolphins, New Orleans Saints, Tampa Bay Buccaneers and 49ers?
Murphy said: "We would like to play in London but would not want to give up a home game. We are a small community and each home game has a relatively much bigger economic impact in Green Bay [than in other, larger cities]. So taking away a home game would be tough.
"But we would love to be able to play an away game in London at Wembley Stadium, it looks like a phenomenal stadium, obviously a lot of history is there."
With only four weeks of the regular season remaining, Green Bay have won all 12 games and are aiming to become the first team since the 1972 Miami Dolphins to record the perfect campaign - winning every regular season game as well as the Super Bowl.
Whether they ultimately lift the Lombardi Trophy in February remains to be seen but, roared on by their passionate fans at Lambeau Field, few observers would bet against them being the first team to win back-to-back championships since the New England Patriots in 2004 and 2005.
Users in the UK can hear full updates on Green Bay's clash against the Oakland Raiders during 5 live Sport Extra's live NFL coverage on Sunday, 11 December. Coverage starts at 1750 GMT with commentary on New Orleans at Tennessee, followed by San Francisco at Arizona.