Is this a golden era for NFL quarterbacks?
By Ian Shoesmith
BBC Sport
Last updated on .From the section American football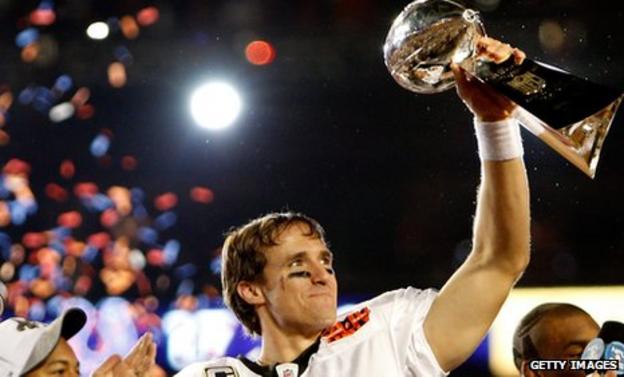 One of the National Football League's most enduring records is likely to be smashed over the next few days, confirming the inexorable rise of spectacular passing at the expense of the rushing game.
Going into the penultimate week of the regular season, Drew Brees is only 304 yards behind the legendary Miami Dolphins quarterback Dan Marino, who set the single season benchmark of 5,084 yards in 1984.
Some great quarterbacks have tried and failed to beat that record, from Marino's contemporaries, including John Elway and Joe Montana, to the gunslingers of the modern day, Tom Brady and Peyton Manning.
Interestingly, Marino's record is under threat not only from Brees, but also from Brady (4,897 yards with one game remaining) and Aaron Rodgers (4,360 with two to play). But are we really in a golden era of quarterbacks, or are today's generation being made to look good because of a fundamental shift in the game?
One factor could be that the NFL has sought to better protect quarterbacks and wide receivers in recent years. Gone are the days when linebackers could get away with smacking quarterbacks long after they get rid of the ball.
Wide receivers also enjoy more support from the officials - both in terms of defenders not being allowed to be as physical as they once were, and that they are now far more likely to be flagged for swinging pass interference penalties.
Rodney Harrison, a two-time Super Bowl-winning safety for the Patriots, told the New York Times that coaches have responded to the rule changes not by beefing up their defences, but by souping up their offences. The result is more high-scoring games, with quarterbacks routinely throwing for 300 yards.
On average, Marino threw the ball about 35 times per game during the 1984 season. This year, Brees has typically had nearly 42 attempts, significantly boosting his chances of breaking the record.
Marino also set his record in an era when teams had much more balanced offences. Just a few years earlier, for example, teams would decide to run the ball as often as they'd pass it. A typical game back in 1979 would feature about 32 rushes and the same number of passing plays, but by 2009 that ratio had increased to 35:27 in favour of the passing game.
Why? Well the numbers suggest that focusing more on passing makes sense.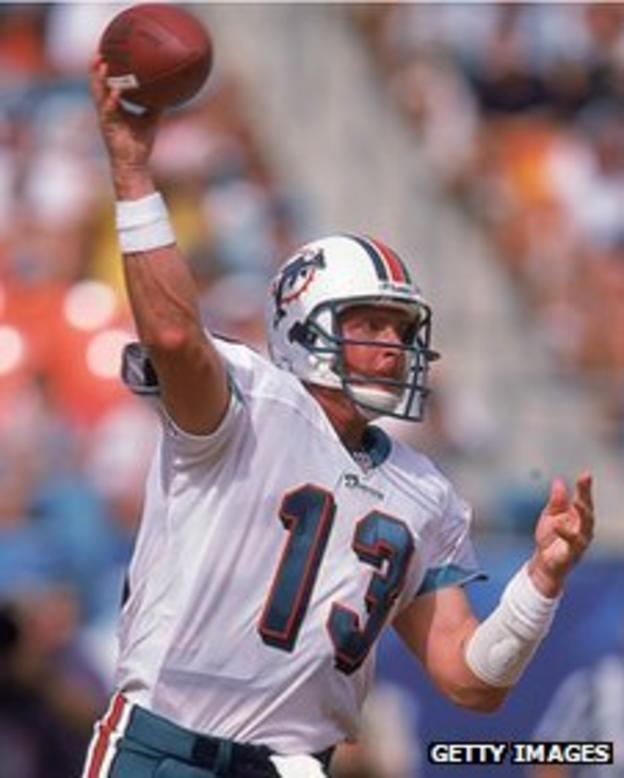 Brian Burke from advancednflstats.com notes that in 1984 the average passing play yielded five yards, compared with four yards per rushing play. But by 2009 that had increased to 5.6 and 4.2 yards respectively. While the difference may not seem huge, in a game often said to be decided by inches, it can be the difference between winning and losing.
Mike Freeman, an analyst with CBSSports.com, thinks the increasing popularity of the passing game makes comparing Marino's achievements with Brees an almost meaningless exercise.
"Like Marino, Brees is using pinpoint accuracy to shred defences," Freeman said. "[But] unlike Marino, Brees is doing it with liberal rules that leave defences playing with one hand tied behind their back. In effect, Brees's record will be severely watered down, so much so that it almost deserves an asterisk."
Another famous American athlete had a metaphorical asterisk put next to his name a few years ago - baseball's Barry Bonds, who broke the all-time home run record - but few in the San Francisco crowd that night particularly cared about allegations that he had been helped by steroids.
They counted themselves lucky to be there when history was made, and the same will undoubtedly be the case when, as seems likely, Brees overtakes Marino and takes one of the NFL's most highly coveted records.